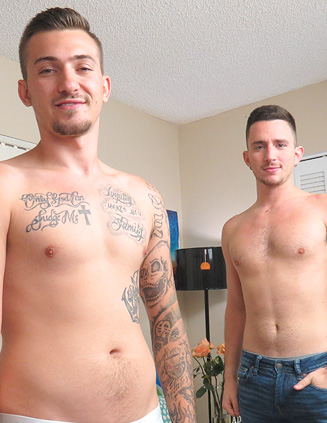 Touching their huge cocks as they get harder, William and Chase waste no time in taking off their underwear and sucking cock. Chase leans over and gets a mouth full of dick when he wets Williams cock. He sucks and sucks until William is ready to get his mouthful. Leaning back, Chase extends his arms over his head and feels the thick lips wrap around his shaft.
The tattooed hunk is getting better at eating sausage every time he gets in bed with another man. He may be straight, but William is willing to try anything, which makes him such a great playmate. He sucks Chase's cock and rubs it up and down until the two are ready to escalate. William knows what Chase wants, he kneels on the couch and presents his ass to Chase, who slides his cock into his tight, tight hole.
Back arched, William's muscles are stiff, not feeling used to getting stuffed by raw cock. Chase gives him pointers as he fucks his hole. "Arch your back," he says, and pounds into him again. He's not going to take it slow like Nico did. Cbase is an animal of a lover, and wants to fuck the way he likes it.
William is getting the rhythm, he lifts his chest and backs Chase's cock into him before turning over and getting an ass full of dick. This position he likes better, his hole is more accessible and there's not as much friction as he watches Chase's shaft slide in and out of him. A smile on his face gives away William's playful enjoyment as the sound of fucking and Chase's gulps for air fill the room.
What comes next is Chase's primal grunts as he declares he is ready to blow his wad. Sliding his cock out of William's ass one last time, he spills his seed onto William who, in turn, releases his hot cream in a finale.