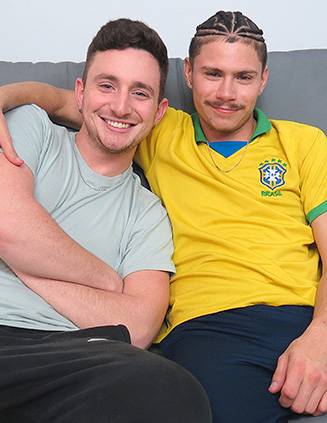 Chase's cock is almost visible through his stars and stripes festive underwear as he kisses Chris, whose tongue moves from Chase's lips to his chest and his nipples. Chris grabs hold of the band on Chase's underwear and peeks underneath to see his huge cock. He takes the clothing off and begins sucking on the tip, teasing Chase with mini strokes and some quick finger in his asshole.
Chase turns to his knees and takes Chris's cock all the way in his mouth, with his ass spread wide for the camera. Chris moans and spanks Chris's ass before facefucking him. Chris gets to his knees as well, letting Chase's head in his lap as he continues to suck cock while Chris plays with his gorgeously tight hole.
Preparing himself to rim for the very first time, Chris slaps his dick against Chase's body and then bends over and licks Chase's hole quickly. Lubing him up with spit, Chris sticks in a finger and loosens Chase's asshole even more, teasing him for the big cock he is about to take. He stands behind him, ready to get his dick wet. Chris slides the massive cock into Chase's ass and pumps him hard the way Chris does best.
"Fuck, you've got a big dick, bro," Chase moans as he takes it over and over from the quickening top. He hits deeper until Chase is practically screaming. The straight boy knows how to fuck hard, with his muscular legs and hips doing the work in quick succession. Only momentarily does Chris take a break before he once again pops his cock back into Chase and pounds him.

When they are ready, together, they jerk their cocks and enjoy the pleasure of the moment. Chase is the one who cums first, unloading onto his own dick while Chris decides he wants to continue fucking his gay for pay partner. He fucks harder until, finally, he too blows his load all over the place.