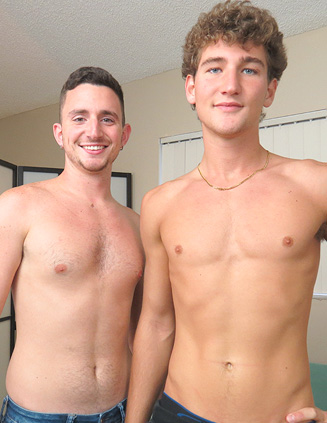 Those sexy guys are at it again, making out on the bed in just their underwear. Nico is the first to shed his fabric covering, quickly followed by Chase. Immediately sucking Nico's cock, Chase wastes no time with pleasantries. Nor does he have to coax Nico's cock to get harder. This 18-year-old is already at attention and ready to feel Chase's wet tongue all along his shaft.
Nico's hot cock is huge and fills Chase's mouth and down his throat. Nico's mouth catches Chase's lips for a moment, before he drops his head down and slides onto Chase's fine cock as if he hasn't eaten in days. The man meat looks so yummy in Chase's mouth. His ass looks yummy, too, getting ready for Chase's to fill him up another way.
The gold chain dangles from Nico's stylish body while he sucks and spits. Before Nico's ass gets Chase's wet spit on his hole. Chase licks the prettiest asshole again and again, slick and hairless he prepares it for his fat cock. Raw and throbbing, Chase's dick slides into Nico smoothly when he bounces against Nico's fine bubble butt.
"Fuck," Chase moans when his cock enters Nico's tight ass again, this time with his back against the bed and his beautiful body sprawled out for Chase to see. Nico's breath catches every time Chase rams into him. He holds his legs up by his chest and let Chase fuck him harder.
Almost simultaneously, the young straight boys release their loads onto each other. Chase, first, feels the hot cream squirt out of his cock the second his shaft leaves Nico's tight hole. Nico, in turn, explodes too, enjoying the change of getting fucked by Chase instead of fucking him.