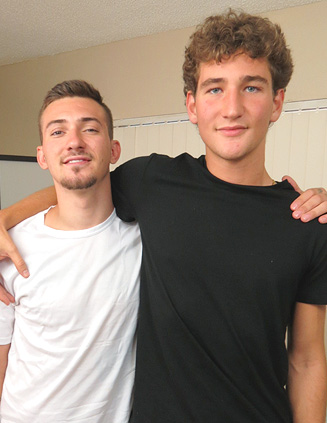 He said he would never let a guy fuck him in the ass. But the price of $1800 is right for him to give it a shot. And what better cock to take than Nico's? To warm up for this whole new experience, Nico kisses William gently, then helps him remove his underwear. Wasting no time in getting this boy warmed up, Nico fills his mouth with William's huge cock.
It's time for Nico's uncut cock to get some attention. His dick hardens inside William's mouth as he bobs up and down on the tip. Gently sucking him and rubbing his shaft, William's nervous movements indicate how he isn't quite ready to take it up the ass yet. To soothe him yet, Nico proposes he get on his hands and knees and spits in his ass. He licks William's hole and lubes it up with spit and kisses, warming William to his touch.
Looking over his shoulder, William waits in nervous anticipation. Nico gives him just a finger, and William tells himself that the finger isn't that bad. When he gets a thumb, however, William responds with a bit more nervous laughter and an arched back.
"Okay, that's not bad, actually," he reacts. When asked how he feels, his voice is a little broken up and he shares what the new sensation is like. Nico is patient and gentle with him, playing with his ass and customizing him to the feeling even more. When his cock gets ready to fill William up, Nico takes it slowly. He plays with the opening and slowly fills him from tip to base.
Repositioning him perfectly in the pillow, Nico slides his cock inside the William's tight, virgin hole. He moans with each slight movement and takes Nico's dick raw, inch by inch. The young body, sculpted and gorgeous moves back and forth when he slides into William. With each new position, the hole gets easier and easier to stuff. They pick up the pace to get more cock inside him, and William can't tell if he enjoys it or not.
On his back now, his hands rest under his head and Nico slides, easier this time, into William's ass. With his legs spread in the air, William's tattooed hand tugs on his own cock and Nico closes his eyes to focus on the sensation of the tight ass around his penis. His balls swing and hit the newly-initiated bottom's ass. Pulling out, Nico releases his load onto William and William follows suit to conclude the first-ever time William has gotten fucked by a man.