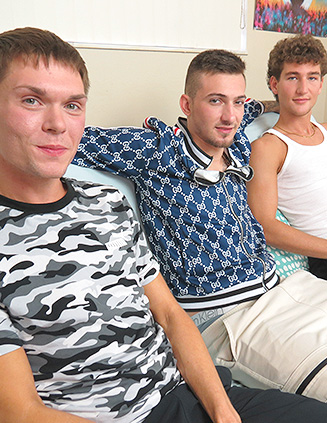 Three boys with nothing better to do than lay on the mattress, shirtless, stroking their cocks. They remove their underwear in unison while Leo steals a few looks at the hard cocks laying next to him. Nico repositions himself at eye level to William's cock, followed by Leo who fills his mouth first with William's yummy meat. They take turn sucking him and rubbing themselves.
Nico's turn to be sucked by the pro Leo and the cock-sucking amateur William. He's getting more practiced at it, as Nico moans when William's tongue is rubbing against him. "Oh my God..." Nico trails off when Leo takes his turn to shove his cock down the throat. They play with Nico more, kissing him and sucking him.
Flipping into a train, Leo bends forward to slide Nico's cock right in his mouth, and William slides his tongue right into Leo's ass. They use their tongues to pleasure each other, moaning in the process and enjoying the multiple sensations covering their bodies. William spits on his asshole and Leo wets Nico's dick with saliva. Switching from his tongue in Leo's ass to his cock filling him up,
William's cock slides right into him, filling Leo's tightness with thick meat. Giving each other a high five, Nico and William laugh as their cocks are pleasured by Leo's body. Leo King, too, is enjoying himself immensely, moaning every time William pulses into him and Nico's cock fills him.
"Hey you, let me get a piece of your ass," William motions towards Nico. He takes his position as middle, sucking on Leo's cock while William slaps his booty and digs his face in. Then his cock is ready, slipping into that perfect, young asshole. Slapping him again, William shows his liking. Leo's cock is pleasured, too, feeling Nico's tongue all over it.
The fuck boys play together, the three of them taking their positions on this three-man team. Nico's bubble butt jiggles when William fucks him hard, and Leo jerks his cock. His coordination is tested as Leo tugs both his and Nico's cocks. Taking over, Nico pleasures himself, closing his eyes and feeling William's girth inside him. Balls resting on his head as William fucks his ass, Nico lays in ecstasy before Leo's turn to get cock deep in the ass.
As the top, William exerts his dominance by fucking Leo hard. Nico shoves his cock into Leo's mouth, getting what he wants from Leo's body as well. But it may be Leo's real fantasy played out - getting fucked in all directions. The boys touch themselves and each other, racing to the finish line. It is Leo who cums first, being cheered on by his two fuckers. Then William takes the silver, pulling out of Leo's tight ass and spilling his seed onto his balls. Nico's finale takes just a moment to spread hot cream onto Leo's waiting body.