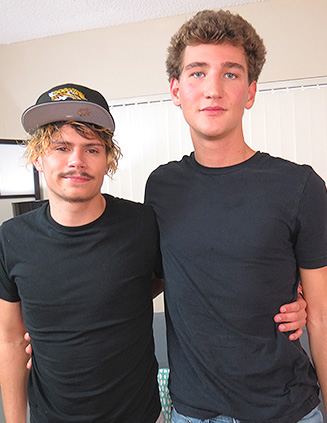 This video gets right to it with these hotties making out passionately. Nico can hardly wait to strip off Chris' shorts and start teasing his dick. Before long, he has his arm wrapped around Chris' body and that dick straight down his throat as if he were a hungry gay guy. Chris begins to moan with how good Nico's throat feels, as he slobbers all over his cock.
The sloppy head turns them both on, with Chris ravenously grabbing Nico's cock through his briefs. When he pulls those down, his beautiful, 18-year-old dick is already at attention. See the lust in Nico's eyes as he watches Chris take him in his mouth, pleasing the straight teen in a way only another man can.
Nico tells Chris to get on his knees and Chris keeps sucking his dick like he's been waiting for this his whole life.
While still on his knees, Chris bends over for Nico to start eating his ass. These two seem as if they were made to play with each other's bodies with the show they're putting on today. By the sound of all Chris' moaning, he's loving every minute of Nico's fingers and tongue touching every inch of him. He squats down to ride Nico and takes him deep and raw while playing with himself. Then he lays on his back and Nico fucks him hard, choking him and putting his hand over his mouth. They both finish jerking themselves to completion laying side by side in a duo of sexy flesh and muscle.