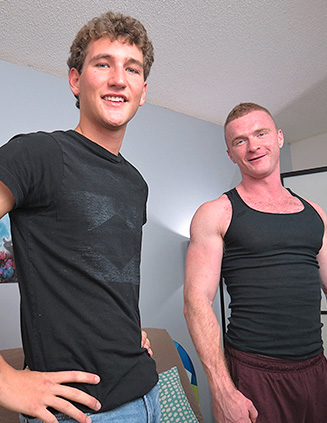 It's already hot and heavy when the two are making out on the bed and removing thier articles of clothing one by one. Nico kisses Brody's chest while taking off another layer of fabric that separates his mouth from that fine piece of sausage that Brody is carrying around in his pants, He approves of Nico's lips and tongue wrapped around his cock when the eyes roll to the back of his head and he moans in heavy rhythm.
Stealing another kiss in between moments of Nico's mouth busy elsewhere on his body, Brody begs for more of Nico in every movement. Not quite a passive bottom, Brody shows glimpses of power when he pushes Nico back against the bed and eats his cock feverishly. His hungry throat filling with 19-year-old cock and pleasure.
Nico takes control back by stabilizing Brody's head and fucking his mouth, choking Brody's throat with cock over and over again, while playing with his ass as a precursor to the main event. Barely ready to move on, Brody flips himself around and presents his newly-slicked ass to Nico, who spits, kisses, and licks the tight hole in every way teasing Brody's hungry desire for cock.
This straight teen knows little of life, but a lot of eating ass with fervor. And of fucking it. First with a moment of his thumb, followed by his huge cock that slides right into Brody's trained and obeying ass. It's tight and Nico needs to reposition to get it just right. But when he does, the hormones fill the air and the two fuck hard.
Watching this sex god dominate and putting his hand over Brody's mouth makes him even yet harder. The masculine bottom takes that cock again and again. And again when he squats down on the rock hard and waiting Nico, who is laying on the bed. Brody takes control this time, using his gym-trained muscles to prop himself up and slide up and down again and again on the teenage shaft.
With his hand propped behind his head, Brody prepares himself for Nico to take his final ravage of his body. He pumps his tight hole with cock. Getting closer and closer to the edge, Brody narrates as he blows his load while Nico is still inside him. Fucking him hard, and enjoying the feeling of Brody's ass as he is cumming, Nico, too blows his load from the uncut cock that is worthy of at least a few car insurance bills.