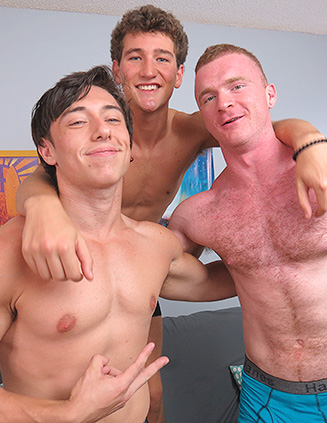 As the camera pans over the three men, it becomes clear that they are all eager for some hot action. With their tight briefs barely containing their erections, Brody and Nico can't resist getting their hands all over Archie's naked body. Their lips lock in a passionate kiss as they fondle his bulging package, teasing him with their skilled tongues and expert fingers. Suddenly during the intense makeout session, Brody and Nico begin to slide off Archie's underwear, revealing his rock-hard dick which is now standing up straight. They then proceed to kiss down the entire length of Archie's body, starting from his belly down to his big juicy cock. The sound of moans and slobbering fills the room as both Brody and Nico take turns sucking on Archies dick, licking and teasing it with their tongues.
As soon as Brody and Nico strip off their clothes, an intense oral frenzy erupts between the three. With hungry eyes, Brody gazes at Archie's perfectly round ass cheeks before leaning forward to probe the hole with his fingers. Then Nico joins in on the action and begins rimming Archie's tight asshole. His tongue expertly teases the tight entrance while his hands gently massage Archie's hips. As Brody and Nico continue to worship Archie's anal region, they decide to move into a spit roast position. With Nico still sporting a hard cock, he slides it into Archie's mouth while Brody positions himself near the rear ready to pound away at his ass.
As Nico continues to pump his dick in and out of Archie's mouth, Brody starts thrusting his own dick deep inside Archie's tight asshole. The intense sensation of having two dicks simultaneously fucking him from both ends leaves Archie feeling ravaged. Next up, it's Brody's turn to take cock from behind as Nico shoves his thick dick deep into the tight ring of Brody's ass. As Brody moans in pleasure, Archie can't help but watch with intense desire. With each powerful thrust from Nico's cock into Brody's ass, both men begin to lose control as they near their explosive climaxes. Finally, after what feels like an eternity of unbridled passion and pure carnal delight, Brody shoots a massive load of creamy white cum while bottoming. Nico isn't finished yet and decides to fuck Archie's ass to completion. Nico's rapidly fucks Archie's ass, then he pulls out, so both men can shoot their loads. The room is filled with the sounds of flesh slapping against flesh as they jerk themselves off in unison, their cocks spewing forth thick ropes of cum onto each other. It's a wild and erotic scene that leaves all three men completely spent and satisfied.