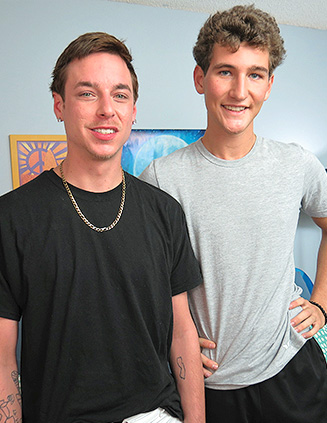 Their phones are out and their eyes are glued to the bouncing titties on the screen as Nico and Blake watch porn and rub themselves. They are down to just their underwear while they share this bed, before they switch hands and start rubbing each others cocks instead of their own. Giving each other a look, each takes of his underwear and Blake starts sucking Nico's already-hard cock.
He did a lot fo the work himself by watching the straight porn on his little phone screen. But now Blake is taking it home by rubbing Nico's cock up and down with his lips. Screen still poised at perfect viewing, Nico continues to enjoy the visual stimulation of the big boobs bouncing while Blake sucks him.
Time to take charge, Nico fills his mouth with Blake's big cock. He measures the shaft with his tongue, wondering how on earth it is going to fit inside his tight asshole when he can barely fit it in his throat. His lips are covered in spit, Blake's dick covered as well. In the meantime, Blake plays with Nico's cock and balls, spreading his knees wider for him to get best access to his junk.
Turning over, Nico shows Blake his grand prize - a smooth ass and tight hole that needs to be licked. Sucked. Fucked. Blake plays with him, alternating his tongue and fingers over again between Nico's sharp inhales until, finally, Blake positions to make Nico's ass completely his.
"Go slow, right?" the bottom straight boy begs when Blake lubes up his dick and slides it swiftly into Nico's tightness. He moans. Followed by Blake's loud breathing. Nico's hands are gripped in front of him tightly holding each other while the force of Blake's cock filling him up pushes him further into the mattress.
Pillow propped underneath his ass for deepest possible access, Nico again gets filled by the thick shaft attached to the blue-eyed babe. Blake fucks him harder now, almost doing pushups while his hips press further into Nico. Together, they start playing with themselves again. Making sure their cocks are at peak excitement when they blow onto each other. Almost in unison, hot cream drips from them, mixing with the salty sweat that's accumulated from their bedroom workout.