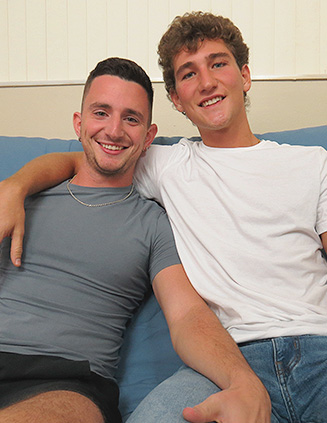 Such a good kisser, Nico is on top of Chase as he massages his cock over his underwear. The boys make out and Chase can barely keep his clothes on for long. After removing the last of the fabric, Nico slides down the bed and rests his head on Chase's cock, hardening to his touch. The sex-loving porn model is hard already, feeling Nico suck and suck.
The bulge in Nico's underwear pushes outward as he continues to taste Chase's cock. His follaccio skills are on par, licking the tip gently before taking the base into his mouth, teasing Chase with every lick. Patience running out, Chase turns Nico over to remove his clothes and get his mouth on the young cock.
His necklace lays against the shaft as Chase's mouth fills with thick dick. Playing with his young, tight body, Chase repositions Nico so that he can see all of him, spreading his legs and gripping his balls. He sucks on his cock again, playing back and forth with it against his tongue before choking himself a little with it's depth.
Ready to fuck, Nico turns around the new guy and spreads his ass cheeks for him. After a spit on the hole, Nico sucks and licks Chase's ass. Not long to wait, he slides his huge cock into Chase's ass. The new guy can barely take it, needing pauses as Nico's cock is so thick and long. "Fuck bro," he moans as he starts to get the rhythm of his first BSB fuck.
Nico establishes dominance, mounting Chase and sliding his dick again down into his ass. "Right there," he moans, loving the way that position feels against his skin. Holding onto his own cock while Nico fills his ass, Chase continues to bathe in the pleasure of getting fucked. "That feels so good," admits the new guy, letting Nico touch him any way he desires. "I'm gonna cum, bro," Chase announces before spilling his load all over himself. Excited to see him unload, Nico's cock does the same, dripping white cream down the young, uncut cock.