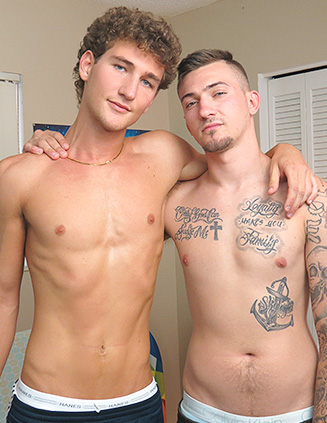 William grimaces as Nico leans in to kiss him. He doesn't have to pretend to be Gay 4 Pay, because he clearly is only willing to suck cock for the cash. "That's good, just keep going," Nico encourages as William sticks Nico's cock between his lips. Directing him to keep his mouth open, and to make sure his cock is in all the way, Nico makes sure that William gives this blowjob his all, despite his not wanting to.
Filling his throat with Nico's cock, William gets the hang of sucking off the fine boy who looks like he came out of a 80's lifeguard film. Nico stands and takes more of William's pulsing before William, too, removes his pants. He is ready to receive some appreciation for sucking dick. The 9-inch cock is hard and waiting for Nico's soft mouth to envelope him.
Taking (almost) the entire length of his cock, Nico pleasures William's thickness with wet tongue and lips. The two tease each other as Nico spreads his cheeks wide. "Looks like a nice female asshole," William compliments in his drawling accent, sticking his tongue in Nico's ass. Nico likes it. And his tight ass gets tighter when William slides a finger or two into him. He moans, waiting for the intensity to increase when 'the real thing' gets shoved up his ass.
His hole spreads wider, still tight while William slides his girth into him. Difficult to fill him entirely. But Nico, it seems, likes the sensation of being full as he bounces backwards on his knees towards William's cock. His round ass begs for more as he asks for William to slow down. In response, the top does the exact opposite, speeding up and pounding him harder, with a slap on the ass to accentuate his approval.
Fucking him harder, William holds onto Nico's neck, then shoulders, then hips. For $1500, Nico lays on his back and gets the cock to slide deeper into him still. He tugs at his own erection as the tattooed body fucking him continues to enjoy the tight asshole he is presented with. The straight boy fucks like a straight boy, rocking his hips faster to feel the tightness around his cock pick up speed moment by moment until he can't hold his cream in any longer. William gasps and moans as he brings himself to orgasm, squirting the cream he has saved for Nico. Finally, Nico's own load explodes from his uncut cock and drips in one, heavy gulp from the tip of his penis.