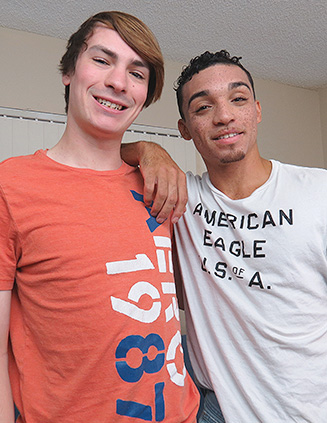 Through his underwear, Liam feels Amone's huge, hard cock that is ready to get satisfied. Liam kisses his with admiration and takes the entire sausage into his mouth. Both boys are sleepy for this morning fuck-around, Liam's tired eyes barely opening as he sucks on Amone's morning wood. Amone's freckles twinkle as his mouth lays open in response to the feeling of Liam's tongue along the underside of his cock.
Amone moves in, kissing Liam's chest, happy trail, and cock to get him hard. The morning light shines perfectly on Liam's thick cock, glistening with Amone's spit as he twists his mouth and pulsates up and down on his manhood. Amone intersperses play with his fingers and mouth, soaking every inch of Liam's dick.
But Amone's morning wood is impatient, he turns Liam over and begins playing with his asshole. His tongue flicks over Liam's asshole before his fingers get a chance to play. Finally, he sticks in a finger. And then a hot, hard sausage. He slides into Liam's asshole as Liam directs the perfect angle to take him in. The bottom bitch back up onto Amone's cock with moans. Each time the huge penis enters him, Liam steals a deep exhale.
Softly, gently, Amone fucks Liam. His balls swing in a pleasant rhythm between his legs. He gets into it now, feeling Liam's tightness grip around his cock. Amone holds Liam's shoulders and hips for a better grip and continues to make him take it in the ass. This straight boy keeps pumping, building himself up as he restraints himself from cumming just a little bit longer.
Spooning now, the boys fuck again, Amone entering Liam from behind with his massive cock. In order to get full, deep access to Liam's hole, Amone shifts his body. Pumping his hips, he fucks Liam with the same gentleness, but this time with much more intent. Liam tugs at his own cock, his breathing shortens to slight gasps as he brings his penis to the point of exploding. He releases his white-hot cum onto his happy trail before Amone, too, explodes from the tightness of Liam's ass onto Liam himself, satisfying both thier hot morning sausages.