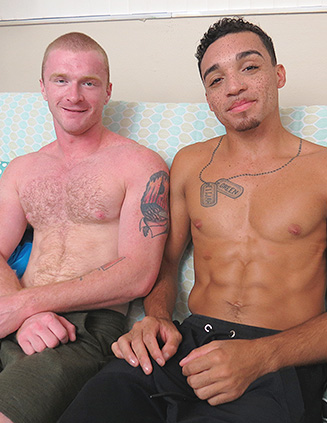 Four muscular arms prop up the sexy men as they make out on the bed, fully clothed - but not for long. Amone's sheer shirt comes off alongside Brody's workout shirt, followed by their shorts and Brody's white underwear. Amone's mouth, before he knows it, is directly on Brody's hard cock, sucking his tip and making him moan.
"You like that?" Amone checks in on his mattress pal. Brody responds with a pinch of his own nipple and a whimper. Amone's shorts come off, as Brody lays in waiting, hardly patient enough to have Amone's tongue back on his stiff shaft. He spits on him, saliva running down the base of the pink stick.
Amone touches himself through his tighty whities underwear, getting hard in anticipation for Brody's mouth. Sucking him like the bottom he is playing today, Brody takes his time playing - using his tongue to play with Amone's tip, as Amone stares at the perfect specimen in front of him. Picking up speed, Brody continues to suck until he gets flipped over and his ass is taken.
First, it is taken by Amone's tongue, licking his taint and fucking his hole with his mouth. Amone plays with this ass, touching himself in the meantime and then sliding his massive cock into the tight hole spread for him. "Back up a bit," he requests, as Brody instinctively leans away from taking such a huge erection in the ass.
Slowly and gently, Amone pulses. Inch by inch he accustoms Brody's ass to his cock, sliding in and then out again with delicate precision. In due time, the length of Amone's entire cock is enveloped by Brody's strong body.
"Take that fucking dick," Amone declares victory, shoving his entire cock into the tight hole. He pulses, slowly but intentionally filing Brody up one centimeter at a time over and over again. His balls dangle against the mattress while being fucked. Almost cumming, Amone has to take a moment to bring himself back to center, not ready to blow his load until he can flip over the man meat and fuck him again.
He plays with his cock while shoving his own deep inside, increasing the speed of his fuck until the corners of Brody's mouth turn upwards and he exclaims "Fuck, it's so big!" Brody loves this position, feeling his cock close to cumming, he tugs as the cream drips from his shaft. Amone cums too, spreading his seed on Brody as well, earning them both a beautiful payday.