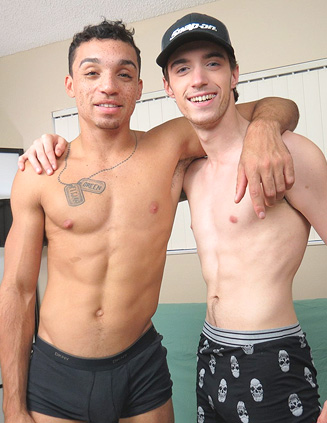 Starting off with some making out, it doesn't take long before Amone is ripping Ricky's pants down to suck his dick. Ricky begins moaning and thrusting as his cock grows in Amone's mouth. Amone sucks the head of Ricky's cock like he wants to milk every last drop of cum and Ricky loves it.
When Ricky goes to return the favor, he starts softly kissing up Amone's thighs and around his belly before passionately taking Amone's girthy dick into his mouth. Amone moans as Ricky works his tongue around the shaft, gagging as Amone's cock slides down his throat and he spits all over it.
Finally Amone asks Ricky to sit on his dick and then he lays back while Ricky slowly slides his tight hole onto Amone's dick. Oooh man you can almost feel how tight Ricky is just from watching. He starts to slowly ride up and down that lubed dick, trying to take it as deep as he can. Stretching his asshole wide open.
Then Amone bends Ricky over and starts fucking him hard and deep from behind. Ricky may not have been excited to bottom but his moans as he takes it from behind seems to suggest otherwise. Amone finishes with a big load on Ricky's back and then jacks Ricky off until he busts.