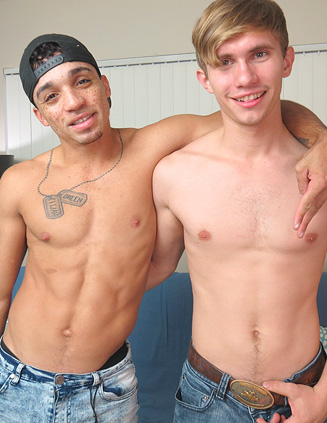 Settled into the bed with just their underwear, Amone and Darron kiss while Amone plays with the country boy's nipples and removes the underwear to expose his hard cock. He immediately sucks down on the large shaft, filling his cheeks with Darron's rod. Amone spits on the tip, and Darron playfully pushes Amone's head down to choke on him.
Darron's nipples are ticklish. He doesn't know what sensation to focus on, Amone's hand rubbing his spit-soaked dick, or the light touch of his fingers on the sensitive nipples. Switching between gasps and giggles, Darron alternates focus between his body parts. Only to end up laying Amone back and sucking his dick instead.
"How did you do that!?" Amone gasps to Darron, his deepthroating skills impressing Amone, who is hard and ready to fuck Darron's sweet little ass. He bends over and the raw cock slides right into him. Amone breathes heavily when he fills Darron completely, reaching all the way down his base and tightening within the hole.
Even though he is tight, Amone picks up speed to see how Darron can take it. He moves his hips but carefully not to bring himself to blow his load too soon. The tight ass feels good around his cock and he enjoys making Darron cry 'yes' every time his hips lean into his cheeks. The six pack of Amone's abs are sculpted to perfection, the lines above his quads drawing the eyes to his cock like a runway. Darron holds his cock tight while feeling the perfect specimen fill him.
Amone is in it now, needing to pound Darron harder and harder with each thrust of his cock. Darron is fully in the moment as well, moaning and grabbing himself, teasing his cock into full-blown orgasm with his dick exploding at its pinnacle. Only waiting until Darron cums, Amone quickly takes out his cock and blows his load onto Darron's man bush, entangled with cream.