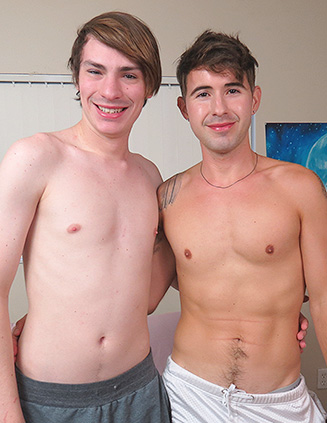 They're already shirtless, making out on the bed, when Kylan kisses his way down Liam's front. His cock is hard and ready for the moisture of Kylan's mouth, which quickly and warmly surrounds it. His mouth fills with his tip while his palm and fingers massage the shaft with intention. Liam moans in approval, already excited to see what this kink boy can do to him.
Kylan's huge cock is pressing out against his underwear, distracting LIam from his own pleasure and luring his lips to suck on him. The beautiful cock breaks free of its fabric cage and hops straight into Liam's mouth. Slowly fucking his throat, Kylan pumps once. Twice. Before laying down to get the complete Liam experience. Liam rubs his own dick while sucking Kylan's in rhythm.
A slap on the ass shows Kylan's dirty side, then he licks Liam from the nape of his neck down to his ass. Bubble butt in the air and receiving Kylan's wet tongue, LIam is in heaven. Kylan, too, seems to be enjoying himself as he makes Liam's ass wetter by the second and preparing him to take his massive rod.
Sliding his cock along Liam's crack before he slides it in, Kylan plays. When he does finally fill Liam's hole with his tip, then his shaft, Kylan assumes his role as dominant top. His arms extend to grip Liam's shoulders for ultimate leverage of his cock sliding inside the tight hole. Mounting him properly, Kylan's balls play against Liam's taint as Liam's balls dangle towards the mattress with each thrust.
"Oh yeah..." he moans, taking Kylan's cock in his tight ass. Kylan has mounted him like a dog, fucking him from behind. But more than just pounding, he moves his hips like a dance, making sure every centimeter of his cock feels every centimeter of Liam's ass. Flipping him over, Kylan continues the passionate approach to being a fucking gorgeous top.
Eyes rolling to the back of his head, Liam is in another world when Kylan announces that he is going to cum. He does not disappoint, shooting his cream out of his cock onto Liam's front with as much intensity as his fucking. On Liam's turn, he gets to finish the moment by coaxing his white cream to make a splash as well.