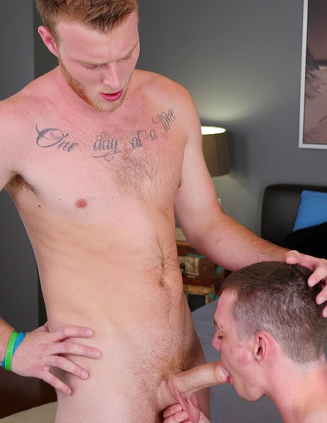 Benjamin Dover questions Ryan Fields about his tattoos, and he gets Ryan undressed so he can take a look at all that ink for himself! But once Ryan's naked, it's not that tattoos that catch Ben's attention, it's that nice cock hanging between Ryan's legs and Ben goes right for that. He sucks Ryan's big dick and gags on it as he tries to take it deep down his throat, and that sweet mouth has Ryan hard in no time.
Then it's Ben's turn to get treated to some head as Ryan kneels down and sucks him off, getting Ben's balls in his mouth as he shows him what good head should really feel like! When Ryan's expert mouth has got Ben hard, they move it to the bed and Ryan bottoms for Ben, spreading his ass open to take Ben's thick shaft and moaning as Ben fucks him raw and tickles his feet with kisses.
Ben can't get enough of that tight ass and he stuffs Ryan full of his pulsing prick, pounding him hard and deep while Ryan jerks his own dick in his hand! Ben must be hitting all the right spots in Ryan's ass because he makes Ryan cum in a matter of minutes, but being the good little bottom that he is, he offers his ass up for more raw action as Ben drives his cock into him once more! A few more deep thrusts and Ben is dropping a huge load of cum all over Ryan's backside, making him taste it as he gives Ryan's ass one last smack!