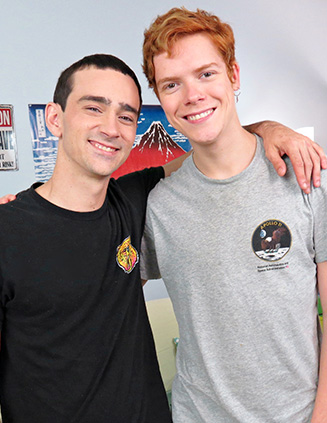 Standing in the middle of the room, eyes locked on each other, Mikey gently grabs Connor's face as he kisses him. The boys are into each other from the start, and their clothes quickly come off. Connor takes it further by sucking Mikey off, polishing his cock with his lips. Mikey lies back and enjoys it, before giving Connor the same pleasure and blowing him.
It doesn't take long before Connor buries his face in Mikey's ass to lick his hole. Mikey gets very aroused by the act, as does Connor. "You ready for my cock, bro?" Connor asks, fully erect and ready to fuck. He then goes inside Mikey from behind, easing his big cock in. Mikey's face alternates between pain and pleasure as he gets fucked doggy style. Connor pounds him hard, stretching his hole as he goes deeper. He gets Mikey on his side and continues pounding him hard, before getting him on his back.
Mikey's ass has opened up for Connor to slam his dick faster. Connor nails him hard, causing Mikey to shoot his load. As he keeps thrusting, Connor wants to cum too. He pulls out and points his dick right at Mikey's abs. Then his warm load quickly comes out and lands all over Mikey. Drained, the boys catch their breath.