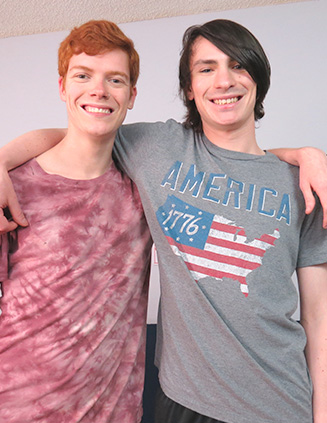 Liam and Connor begin with playing the age-old teen game - Spin-the-Bottle, Truth or Dare edition! The bottle lands on Liam first, daring Connor to lick his nipple. Then Connor dares Liam to take of his shorts. Again, Liam gets the bottle, dared to put his dick in Connor's mouth.
Yet again, Liam must do as Connor says - daring him to get naked. Another dare for Connor leads him to kiss Liam, distracting themselves entirely from the fame. They begin kissing gently, in short spurts before abandoning the game altogether and laying next to each other at the head of the bed. Liam's cock is out and Connor bends over to take it in his mouth. Liam makes a big, heavy sigh as he feels Connors mouth fucking him. "Damn" is his only audible reaction.
Connor's head bobs up and down on Liam's cock, deepthroating him between breaths. Getting eager to earn his paycheck, Liam bends over and insists on his turn to pleasure Connor. Connor's cock hardens as he feels the straight boy's wet lips wrapped around him.
Positioned for full access, Liam moves his knees just right so Connor can eat out his ass. His face giving away his entire pleasure, Liam basks in the joy of Connor's wet tongue rimming his asshole. "I want to fuck that ass," Connor dictates, getting his cock ready and sliding it directly into Liam's hole. Steadily fucking him, he picks up force and speed until his dominance is on full display. "That feels so good," he reassures Liam as he pounds his ass harder.
Taking in in pleasure, Liam gently laughs between pumps, feeling the rise and fall adrenaline as Connor's fine cock slides in and out of him. Turning to his back, Liam takes Connor's cock again. His body shivers every time Connor pushes into him. The top places his hand on Liam's throat to gain full control of his movements, as his bottom tugs on his own cock mixed with the pleasure of a full ass.
Both boys begin to cry, "yes" at the same time, indicating they are each close to their orgasmic goals. As Connor keeps fucking Liam, the straight boy's eyes roll to the back of his head in excitement. Connor's raw fuck gets him so close. He pulls out and finishes himself onto Liam's stomach just as Liam's cum drips from his cock - both ending their teenage game as winners!
Please comment on the bottom of the page and rate the scene please. WE NEED YOUR FEEDBACK!