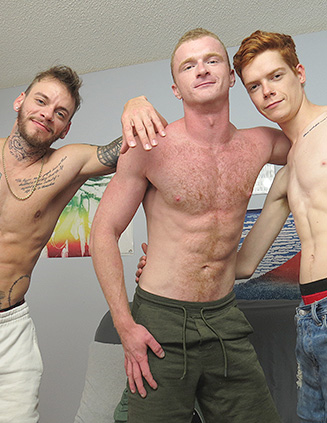 Connor and Brody hit it off immediately, the two redheads are making out on the bed as Justin plays with Brody's cock. Removing his underwear, he immediately sucks his dick, getting it harder while he takes off Connor's underwear too. The multitasking master holds both cocks, eating Connor's too, hardening with each movement of his throat. Justin switches back and forth between the two cocks as they continue to make out in front of him.
Soon, Brody is the center of attention. His ccock is stiff and Connor swallows it like a pro, letting it fill his mouth and throat while Justin plays with his balls and his own cock. Kissing Brody's legs before sucking his cock again, Justin's tattooed body is caressed by Brody's masculine hands. Spurts of excited laughter fall out of Brody's mouth as he feels the excitement build in his cock.
Holding Justin's cock ready for Brody's mouth, the helpful Connor grabs his balls with first his fingers, then his fist, and finally his tongue, wetting his sack and playing with his base. Then, he encourages Brody's head deeper into Justin's cock with his hand, before taking his turn sucking on Justin's thickness. The boys play, suck, and kiss Justin's body, pleasing him as the bottoms they are.
Preparing to be fucked in the face, Connor lays down and asks Brody to mount him backwards, with his cock swallowing all of Connor's length with a gulping sound. Justin steps in to participate with his mouth soaking Brody's perfect asshole. The big booty prepared with his tight hole, Connor prepared with his mouth full of Brody's cock. The moans are indistinct, undeterminable about which full mouth they escaped from. The three young men's naked bodies pretzled together.
Justin is ready to fuck. His cock desires Brody's asshole and, after he spits on it to prepare it for fun, he slides himself into the waiting flesh. Brody's breathing stops for a moment, his gulping of Connor's cock paused until he can take all of Justin's pounding. Not until Justin's entire girth is filling Brody can he return to focusing on Connor's cock. The boys pound in unison, all three of them fucking in rhythm, with Justin as conductor. His deep, quick movements of his cock inside Brody leads Connor to also maintain a good grip on Brody's cock with his mouth.
His ass not ready to quit, Brody positions to take Connor's cock as the one that was just in his ass is presented in front of him. Justin's hand rests on Brody's neck as he encourages Brody to taste himself on his cock, filling himself at both ends. "Take that dick," dirty Justin demands, encouraging Connor to give it hard to Brody too in his tone of voice.
Top Connor loves pounding Brody's ass, too. He flips him over to once again slide into him. The bottom bitch being taken repeatedly in both his holes. Justin plays with himself while allowing Connor to continue fucking Brody and for Brody to play with himself. He grabs his balls in pleasure, rubbing his cock the way he likes it while Connor's duck fills his asshole. Long and lean, Brody enjoys it until Justin declares he is going to cum. "Yes!" approved Brody, opening his mouth wide and recieving Justin's huge cumload into his mouth and on his chin, while Connor continues to fuck that perfect ass.
"Yeah, Connor, fuck Brody... I want you to cum," Justin demands, encouraging his dirty talking bottom to take Connor's cock over and over again. His own words and Connor's dick filling his ass brings Brody to the edge of orgasm, blowing his load onto himself before Connor, too, sprays his white cream onto Brody's hairy stomach. Happily eating the mixture of cum off his finger, Brody grins. Justin speaks words of pleasure, and Connor's exhausted silence says it all.