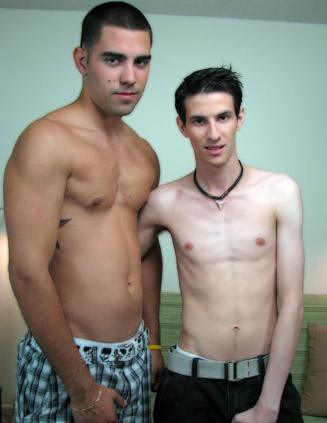 Bring back Chasen and Mike after their oral shoot, Mike stopped me to make the comment that his jaw still hurt from being open that wide for so long. At the end of that shoot I had told them that I wanted to see anal next time, and so that's why I had invited them back to the studio. Chasen is straight, has a girlfriend, who doesn't know he is doing porn, and has been exploring his sexual boundaries here at broke straight boys. As for Mike, he's gay, and seems to be clicking with Chasen on camera. Both of these guys have big, huge, monster cocks that could easily be used as a weapon. Mike was going to bottom for the straight cock and make $1500 for doing it, and then Chasen was going to make $500 less for topping. However, if for some reason Mike couldn't handle taking the dick up his ass than Chasen was going to have to bottom. Chasen said that he just got a new car that was $16,000 and he has been using his paychecks to pay some of it down. I told them to go ahead and start by taking off their shirts, and to remain seated. Both guys were tall, so with them seated we could watch them undress easier.
Comparing the two of them, Mike had not got any sun like I asked him to, so his skin was as pale as a ghost. Both of them sitting side by side reminded me of brothers one big and the other smaller. Keeping the undressing going the guys took off their shoes, and when I asked Chasen his shoe size he told me 13.5 the biggest feet we have ever had. I told him to take off his socks so that we could see his feet, but he told me no. That he didn't want to, and so he left them on to do the shoot. Both guys stood up to drop their shorts, and under they had white briefs on. Chasen reached right in his underwear and started playing with his cock to get it hard. The plan was that Mike would start out giving oral to Chasen to get his dick stiff enough to start fucking. That's when Mike showed that he was getting nervous about taking that big of a cock in his tight asshole. I asked him if he had practiced and used a butt plug like I recommended in order to make this experience not as painful. Mike just said that he didn't get around to doing it, so we would just see how things go. Since we didn't have neighbors I told Mike he could be as loud as he needed to be.
Chasen said that he fucks his girlfriend in the pussy and ass all the time, and she loves every inch of his cock. That's when I told them that their underwear could come down. Mike took it upon himself to reach over and start giving head to Chasen. Once Chasen was hard Mike was able to move his mouth up and down on it pretty easy. When I told Mike that he would lick Chasen's balls, that got Chasen laughing because it tickled. Asking Chasen if he wanted to start fucking he was ready, and Mike kind of whimpered. The guys got into position and Mike decided that he wanted to start out on the bed on his knees. I told Mike to breathe and just work on relaxing to make the whole experience easier. Chasen was trying to make a couple attempts at getting his dick in there. He got about an inch or two in and Mike just caved like a little baby. Since Mike wasn't going to be able to take it, it was now going to be Chasen's turn to bottom. Trading places on the bed, Chasen wanted to start out on his back with his legs up in the air. He rolled up in a little ball and spread his cheeks wide apart so that Mike could find his way in.
Surprising enough Mike was able to push his cock right in and start fucking without any trouble. Mike was able to pound Chasen in the ass and make him moan with every thrust in. The more that Chasen seemed to get turned on and showed it, the harder that Mike wanted to fuck him. It was very hot to watch the two of them pound away, and Chasen at one point started to laugh at Mike's performance. This straight boy was showing to be a power bottom and it didn't seem to bother him that he was being treated like a bitch. Mike was so turned on that for a moment he was sucking Chasen and fucking him at the same time. The guys decided to try one more position and so Chasen got in the doggy-style position. It was obvious that this was the better position that got Mike turned on, because only seconds later did he pull out about to cum. Both guys sitting on their side of the bed were busy stroking their cocks pretty fast. Mike started to moan and then he came shooting his load up his chest. Moving in I saw the nice pool of cum at the base of his cock and the line that ran up the center of his chest. Getting over Chasen with the camera I was waiting for him to start to cum. When he started shooting his load, he made a lot of noise as well. The guys did a great job, and Chasen didn't seem to mind having the dick in his ass and would be up for doing it again.