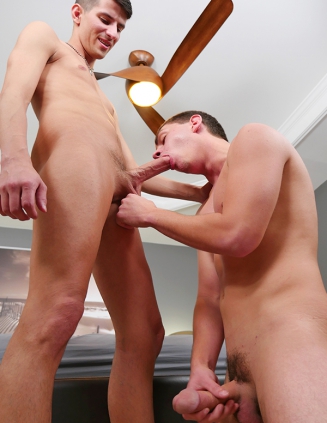 Tyler Griffin has had a bit of a rough week, but it's not about to get any easier for him when he finds out he has to bottom for Mikey, the guy who's famous for his giant cock! Mikey is intimidated but tackles that dick without hesitation, trying his hardest to fit it in his mouth but not getting too far as that prick is just too huge! Mikey gives Tyler head next, sucking Tyler's cock while Tyler enjoys the pleasure before the pain of taking Mikey's massive dick.
When they're done with the oral, Mikey bends Tyler over and slowly enters him, giving his ass time to adjust before he starts fucking him harder and deeper and Mikey is struggling to take that whole prick! The more Mikey fucks him the more Tyler seems to relax and try to enjoy the experience of getting fucked raw but such a massive dick, but if anyone is enjoying it it's Mikey, who is just loving the opportunity to bury his thick cock in Tyler's straight tight ass!
Tyler turns on his back and opens up his legs for Mikey, and Mikey accepts the invitation as he pushes his long shaft into Tyler while Tyler slowly strokes his own cock until he explodes and covers himself with cum. Mikey gets in a few more good thrusts before he pulls out and drains his cock onto Tyler's ass, pushing it inside of Tyler one last time before calling it a day!