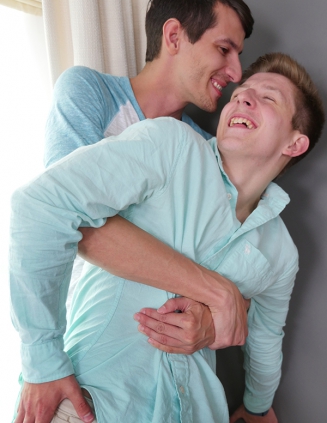 Mikey and Oliver Saxon have a quick discussion about their favorite physical pursuits, and when they're done discussing they move into a physical pursuit they both have in common as Mikey wanders down to Oliver's cock! He sucks Oliver's dick until it's hard and then he takes his own prick out and Oliver takes a minute to appreciate the immense size of Mikey's huge cock.
Oliver does his best to suck Mikey's shaft, trying to control his gag reflex as that dick pushes farther down his throat. They take their oral onto the bed and 69, Mikey rimming Oliver's ass while Oliver works on Mikey's massive dick, but when these guys are ready to fuck, it looks like Oliver is going to have to take that monster cock!
Oliver slowly lowers himself onto Mikey's bareback prick, taking his time adjusting to the size as his ass stretches around that thick shaft, but once he's got that dick inside of him Mikey starts to fuck him harder. Oliver rides Mikey reverse cowboy, and then takes it on all fours as Mikey pounds him raw, shoving that big dick deep inside of Oliver! When Oliver lies on his back with his legs spread and Mikey fucking him hard, Oliver busts a huge nut and then Mikey pulls out and gives Oliver a facial!