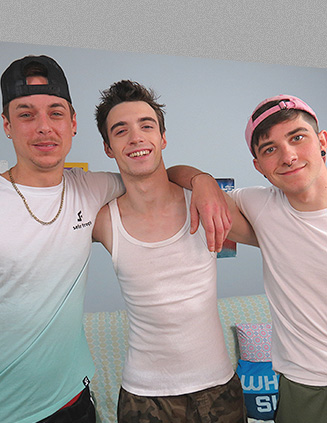 This sexy scenario begins with some intimate kissing and fondling while the three guys are wearing only their underwear. Charming Ricky is confidently sporting a pair of navy blue boxer briefs. Harison is equipped with a pair of sleek silver underwear and gauged ears. Blake sports a backwards hat on his head, around his neck is a chain, and around his waist are bright red boxers. With Harrison in the center, they begin to tenderly stroke his cock that is hidden beneath his boxers. As the boys continue to tease him, they decide to take things further by removing his underwear and expose his groomed pubic hair.
The sight of his rock-hard dick and sexy bush is too much for them to resist, so they proceed to repeatedly wrap their lips around his hard penis, causing him to become even more rigid than before. These guys take turns getting him excited with their mouths, making sure every inch of that rock-hard dick is nice and wet before passing it onto the next guy. It's an oral frenzy, each guy contorting intricately to suck and lick every last drop of precum from their meatstick.
Soon enough, things start to get a little bit kinkier as Blake begins rimming Harrison's hairy hole. In tandem, Ricky shoves his dick down Harison's throat. They're both getting their fill of warm and wet in this threeway. they decide to take things up a notch and form a spitroast with Harrison in the center. Blake's thick cock slides in and out of the puckered hairy hole while Ricky continues to make Harrison gag on his long hard dick. Sounds of moaning, sucking, and pounding fill the room. Soon Blake paints Harrison's fuzzy ass crack with glistening white cum. Next it's Ricky's turn to fuck. He pins down Harrison and thrusts away causing the bottom to expel semen. Finally, with one final hard thrust, Ricky unleashes a massive load of warm white cum all over Harrisons navel before shoving the sticky dick back into the hole.