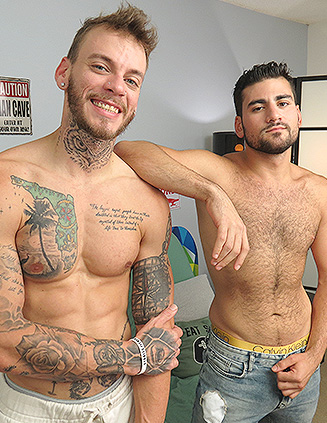 Already laying in bed, half naked and removing underwear, Kade and Justin are hard and ready to get their dicks wet. Justin's lips encircle Kade's cock with purpose, slapping his dick against his tongue and sucking cock like a man. He chokes momentarily on Kade's thickness. The tattoo-covered top spits on Kade's cock before once again filling his mouth with it.
Returning the favor, Kade takes his own approach to sucking Justin's cock. It's slow and deliberate like everything Kade does. He sucks the dick and slaps his face with his girth. His cock hardens as his balls lay patiently between his legs. Kade's mouth covers his dick with spit, playing with his own as he enjoys himself, the masculine aroma filling the room.
Preparing themselves to suck each other, Justin lays sideways as Kade follows. They take each others cocks into their mouths, sucking in unison. The cocks are pleased with this mutual attention, excited to feel the warmth of the lips and the wet of the tongue. Before long, Kade is positioned with his ass in the air and Justin's tongue against his hole. He slides his mouth up and down along Kade's ass, making wet the tight space Justin's dick is soon going to enter.
A finger slips into the tightness. Kade's muscles contract with a moaned 'fuck dude,' as he gets played with repeatedly by Justin's index finger.
"You ready for me to fuck this ass?" Justin questions. With Kade's affirmative response, he slides his huge cock into Kade's asshole, taking gentle moments to check in and make sure his partner is enjoying the cock up his ass. It's a big cock, and Kade's tight ass can hardly take it. Until it does. Then Justin has no problem fucking him hard, pounding his long rod to fill Kade up with every beat.
He slaps his ass, demonstrating the pleasure his cock feels with Kade's tightness surrounding it. He grabs hold of his waist and hips to pull him further into him. The boys moan as they continue to fuck, breath matching their movements. Deep inside Kade, Justin's long cock is pleased with the feeling of intense pleasure and pressure.
Kade's cock, having been neglected by Justin's focus of pleasure on his dick, gets hard as he pulls and tugs until he lays a stream of white cream against his chest. Justin's cock follows quickly behind, marking a trail of pleasure in white cream down the center of Kade's manly chest. Licking the cum off his fingers, Kade is satisfied and pleased to satisfy Justin with his tight asshole.