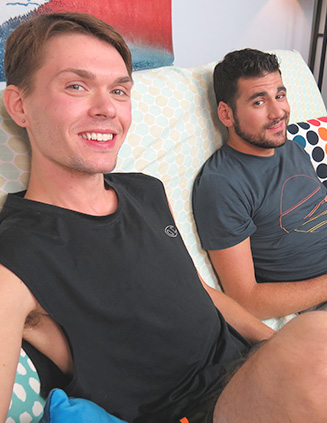 Already breaking Kade's first rule, the two lay kissing on the bed, naked down to their underwear and playing with each other's nipples. Kade is ready to make some money, going straight for Leo's hard cock, playing with it gently and caressing all parts of his body.
Leo slides his hand under the waistband of Kade's briefs, grabbing his hardening cock and focusing on using his tongue to play with Kade's lips. As a top, Kade brings himself to his knees, laying Leo back against the bed to kiss him gently on the chest, the stomach, and the cock.
When his erection bursts free from his tighty whities, Kade's mouth is ready to receive it. He envelopes the shaft in his lips, cupping Leo's balls and giving them a suck every once in a while. Thick and throbbing, Leo's cock is certainly a grower. He fills Kade's mouth.
Leo's mouth is salivating, needing cock too. He bends over and removes Kade's underwear quickly to expose his hard member before quickly filling his mouth with the meat. Ready to enjoy the experience, Kade grabs a pillow and props himself for a prime viewing experience. Leo's tongue outlines all the contours of Kade's cock as he sucks and licks.
Dominant, Kade grabs Leo's head and fucks his throat before asking to play with that ass. It's time for Kade to take what he wants - Leo's tight asshole. He spreads the cheeks and licks his hole while playing with his cock, priming himself and Leo both for a fuck. With a few light kisses, Kade slides his cock into Leo's ass. He pulls away with reservation as the huge shaft slides into him.
But the cock needs his tightness, so Kade is determined to take it all, shoving himself into the tightness. Leo's breath shudders somewhere between pleasure and trepidation. His back arches and he feels the lubed-up cock slide in and out of him. Positioning to give Leo full control, Kade lays in wait as Leo slides himself onto Kade's cock. Slower than when Kade was in charge, Leo's ass is filled again with Kade's thickness.
As Kade sticks Leo full of his cock, Leo plays with himself between moans. But it's straight Kade who comes first, pulling his cock out and exploding onto Leo.
When it's Leo's time to blow his load, perhaps-not-so-straight-Kade lies in wait with mouth gaping open, prepared to get his mouth wet with cum. Members won't want to miss these final moments.