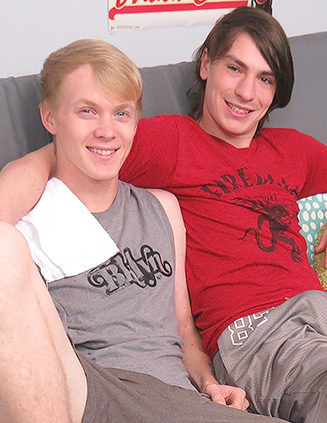 The guys played a good game of college football, primarily due to Liam being a wide receiver in high school and knowing just how to play the game. While not the best quarterback on the team, Dallas made his claim to fame by winning his high school jack-off competitions. When Dallas pulls out his massive dick, it's obvious that he knows just how to make his dick hard and how to make it squirt fast. Liam begins rubbing his cock, too, trying to keep up with the pro.
"I think I might need some more help," Dallas suggests, eyeing Liam's stiffening cock. Shortly, Dallas has convinced Liam to play with his cock like a popsicle. "Want me to suck your dick?" Dallas then asks before the eager Liam removes his underwear and lays back to get his cock wet. His massive erection slides hard and straight down Dallas's throat.
'Massive' is the only word that comes to Dallas's mind and lips as he continues to salivate over Liam's dick. Ever ready to shove his cock into something wet and tight, Liam bounds to his knees and allows his member to be taken even further into Dallas's mouth. He plays with his blonde hair, pulling it gently while closing his eyes, focusing solely on the sensation he is enjoying in this very moment.
Ready to fuck this college teammate with a massive cock, Dallas lays back on the bed. Liam squats down over him, sliding Dallas's large penis into the college boy's young, tight hole. They bounce together, Liam grabbing his hard cock and soft balls, slapping against Dallas's own sack. Watching his dick slide into the brunette's ass, Dallas grabs Liam's hips and slams his body down harder onto him. Skin red from a game in the sun and from Dallas's bedroom grip, Liam's otherwise pale body is presented to Dallas as if on a platter. He pushes his ass towards him, with his knees firmly mounted to the bed for Dallas to force his thick stick up Liam's asshole.
Alternating between soft and rough pounding, Dallas feels Liam's tightness envelope him. This lazy bottom is a willing toy, letting Dallas do as he likes with his hole. Liam stretches his leg, widening the access to his taint. With a labored 'bitch, take that dick,' Dallas pumps harder, fucking Liam in a way that causes his entire body to shift back and forth on the bed. Reaching his climax, Dallas suddenly pulls his cock out to pumps his jizz onto Liam's ass in a well-deserved jack-off victory before runner-up Liam is allowed to earn his prize.