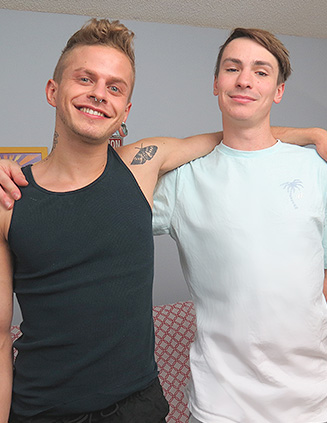 Liam's bright neon briefs contrast with Drew's pitch black pair as the two start making out on the bed. In agreement, they both remove their last remaining clothing and Liam immediately sucks Drew's entire cock into his mouth. His eyelids closed, Liam focuses his attention on pleasing Drew's cock, knowing his own erection will soon be satisfied inside Drew's tight ass.
In and out Liam takes Drew's cock before Drew returns the favor and begins to play with Liam's huge member. Drew's tongue sucks the tip slowly, dipping Liam's member further into his mouth and down his throat. With a double pat on his back, Liam indicates to Drew that he is ready for that fine asshole.
Mounted on his knees, Drew presents his ass to Liam who, in turn, wets Drew's hole with his tongue. Now lubed and ready to take Liam's big cock, Drew's asshole awaits as Liam slides himself into its tightness.
"Fuck," the two moan in unison. It's a huge cock fucking Drew's tight hole, in and out he pulses. Turning back to see the action of being pounded, Drew's face contorts in the pleasure. Liam feels his cock hugged by the walls of Drew's asshole. His perfectly round asscheeks barely move when Liam grabs his hips and pumps into him.
Turning to his back, Liam prepares to enter Drew once again. He loves the way it feels getting filled up with this huge penis. Holding Drew's leg in the air, Liam makes short, shallow pulses into him. It feels amazing, Drew's eyes deceive him as they roll to the back of his head in pleasure. Liam's pace quickens before slowing and taking long strokes into Drew's asshole.
Getting himself ready to creampie into Drew, Liam makes two final pulses, exploding into Drew filling him deeply with cream. It drips out slowly while Drew convinces his own cock to squirt it's hot cream - the ultimate reward for getting his first ever creampie.