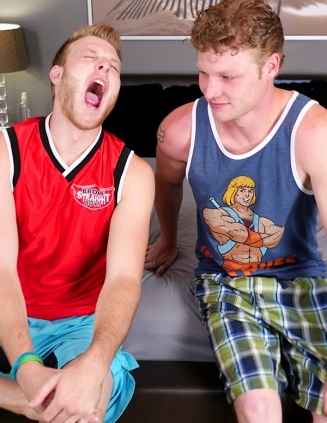 Benjamin Dover and Levi Jackson are both country boys with plenty in common, and these two boy-next-door types are ready to have some fun with each other! Levi lies back on the bed and his shorts come down and Ben puts Levi's big dick in his mouth, sucking that sweet cock while Levi loves every second of it, moaning for more as Ben blows him.
When Levi goes down on Ben he licks every inch of that juicy cock, pulling it in and out of his mouth as he massages it with his soft lips until he's gotten Ben's dick standing straight and throbbing for some ass! They climb onto the bed and Levi straddles Ben, slowly lowering himself onto Ben's cock and riding that dick, struggling to take it all before they flip and Ben bottoms for Levi, getting fucked raw by Levi's long shaft as he rides it.
They find a new position with Ben on his back, legs spread, and Levi doesn't waste any time burying his cock between them, claiming that tight ass and pumping in and out of Ben while he watches Ben stroke his own big prick! Levi pulls his bareback dick in and out, making Ben cum on himself and then getting a few more deep thrusts in before he pulls out and drains his cock all over Ben's sore hole!