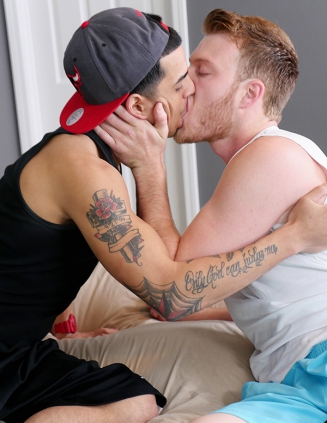 We know Benjamin Dover and Junior Fernandez both love to fuck, so when we get these guys together for a scene you bet it's going to be hot as hell! They start making out, kissing each other as they get naked and Benjamin pushes Junior back onto the bed and takes his sweet cock between his lips, sucking that juicy meat and licking Junior's balls while Junior pushes Benjamin's head farther down on that dick.
As much as Junior doesn't want Benjamin's mouth off his cock, he's gotta give Benjamin some oral too and he gets on his knees and gives him head, slowly working that dick with his mouth while his own hard member drips with excitement! When the cock-sucking fun is over it's time for some fucking and Benjamin spreads Junior's legs and gets right into that ass, pounding it hard from every angle as he gets deeper and deeper, making Junior moan with each thrust!
Benjamin slaps Junior's fine ass and Junior switches positions, getting on all fours on the bed and stroking his hard dick while he gets fucked raw from behind. This sight of Junior's ass bouncing makes Benjamin cum all over and Junior isn't far behind as he strokes out a huge load next!