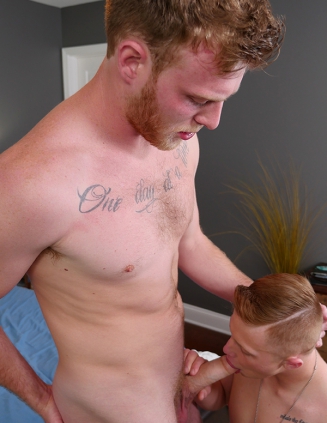 Both Zach Covington and Benjamin Dover are pretty new to BSB, and these two are nervous about the same thing: the sex. Despite their nerves, they seem calm and don't hesitate to press their lips together and make out, kissing deeply before letting their hands explore each other's body.
They slowly strip their clothes off and Benjamin finds his way down to Zach's cock, licking up and down the shaft before taking it in his mouth and giving Zach head, moving his mouth slowly over Zach's growing prick. Zach goes down on Benjamin next, eagerly sucking that sweet cock while Benjamin watches him from above, but getting his dick sucked makes Benjamin horny for a tight hole, and Zach's got one for him!
Zach kneels on the bed, ass in the air, letting Benjamin slide his bareback dick inside him and fuck him hard, moaning as he takes that long, fat cock. The boys fuck in a few different positions, Benjamin burying his hard shaft balls deep in Zach and pounding him raw. Zach's tight hole makes Benjamin shoot a huge load, covering Zach's back with cum as Zach rests his sore ass!