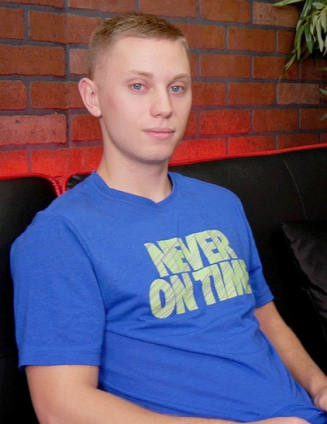 Newbie Zak Parker came to us from North Dakota needing some money to pay for his next semester of college, and being the smart guy that he is, he knows what he has to do to earn that cash! Of course, we're starting him off slow, breaking him in with a solo scene to get him comfortable on camera, and he doesn't disappoint!
He takes off his shirt, showing off his sexy torso and then starts massaging his dick under his shorts. It's not long before those come off as well, and he pulls his meat out of his boxers and plays with that thick cock. He runs his hand along his shaft, stroking himself as he drops his last piece of clothing and then gets comfortable on the couch, leaning back and closing his eyes as he masturbates.
He grabs the lube and gets his prick wet and slick, massaging his balls and running his hand up and down his hard dick as he starts going a little faster. Once he starts stroking it harder and faster, you know what's coming, and he shoots his load, getting cum all over himself as he squeezes out the last drop.