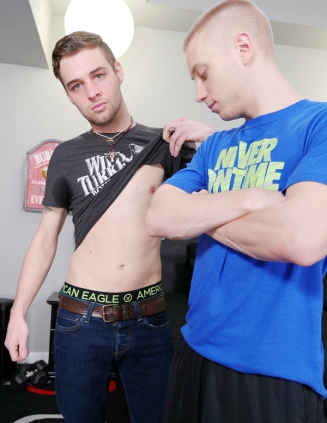 John Henry isn't sure if he's really into guys or not, so we've brought in Zak Parker to help him figure it out. Since John is a newbie and hasn't ever done anything with a guy, we start him off slow with some innocent kisses…and then we let them figure the rest out for themselves!
Zak helps John along, telling him to get undressed then playing with uncut cock before going down on him, sucking that dick and getting it hard in a matter of seconds with that expert mouth of his. But of course, oral goes both ways, and John is next in line to give head to his sexy partner Zak who takes a seat on the couch and lets John do his thing, wrapping his soft lips around Zak's prick as he blows him.
These two studs don't like taking turns, they're so horny that they both want action…and what better way than to 69! Zak dangles his throbbing dick in John's face, and John takes it in his mouth like a good boy, spreading Zak's ass apart to give us an amazing view of his tight little hole. They've had enough messing around and they need to bust a nut, so they get busy with some more cock-sucking until Zak blows his load and John cums harder than ever!