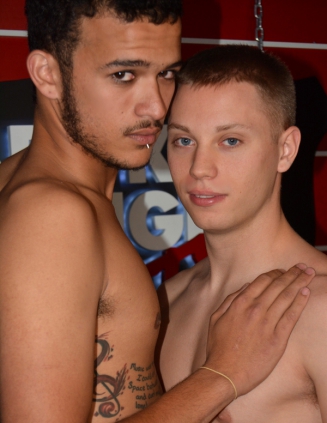 Jaycee Barker is still a newbie here on the set of Broke Straight Boys, and he's ready to learn how to suck some cock today! His scene partner, Zak Parker, also new to porn himself, is here to show him learn the ins and outs of getting a guy off with your mouth…but before they get to that, they have to get warmed up! They kiss and slowly undress and Jaycee drops his pants first as Zak kneels in front of him and takes that dick in his mouth, massaging Jaycee's balls as he runs his lips over that tasty meat.
Zak's impressive oral skills are making Jaycee weak in the knees, so they move things over to the couch and Zak gets between Jaycee's legs, giving him head again as Jaycee leans back and enjoys. Zak lets Jaycee face fuck him a little before Jaycee decides that he wants a taste of Zak's cock, and he gets a mouthful of meat as he goes down on Zak, sucking on his balls and running his tongue along his shaft.
Jaycee seems to be a natural at sucking dick, and he has no reservations about shoving that whole thing deep into his mouth as he explores Zak's cock with his tongue until he cums all over, and then Jaycee shoots his load onto Zak!