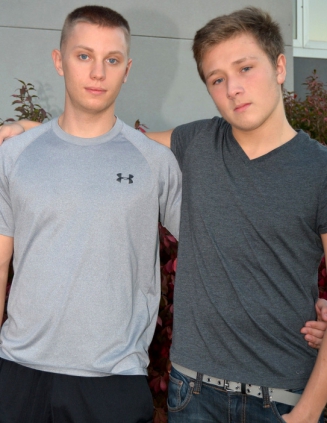 Brody Lasko and Zak Parker are paired up today and Brody is ready to show Zak the ropes of sucking dick! They don't need to talk much because these boys know what they're here for, so they get right to the good stuff! They lock lips and swap spit, making out as Brody rubs Zak's bulge through his jeans before taking them off and wrapping his mouth around Zak's big dick.
He pauses in his cock-sucking to give Zak a few more kisses and then gets back to the oral, working that juicy meat with his hands and mouth as Zak sits back and enjoys. Brody can't get enough of that prick and Zak stands up, letting him suck him off from a different angle and then straddling him to get a little face-fucking in before Brody tells him to sit down. Zak knows what's coming…he received, and now he has to give!
He hesitates at first, but then puts Brody's cock in his mouth, taking a minute to get used to the feeling of having some dude's shaft down his throat. But he keeps going, pumping his dick with his warm mouth and even playing with his balls a little until both of these studs shoot their hot loads onto Zak!