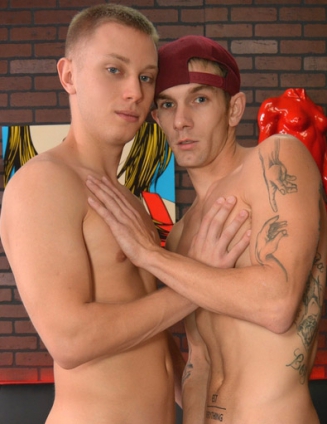 Zak Parker is a little less forward than Dakota Ford, but that's okay because the shy versus assertive thing makes it so much hotter when Dakota moves in for a kiss. He has Zak stand up in front of him and drop his pants as he takes Zak's dick in his mouth and deepthroats it, stroking it with his hand as he licks it up and down. Dakota gets his own pants off so he has better access to his cock, jerking his prick while he sucks on Zak's meat.
They try a few different positions as Zak gets his fill of oral and Dakota gets some balls in his face while they 69 until they're rock hard and ready to fuck. Zak lubes up and shoves his big dick into Dakota's tight ass, fucking him bareback while Dakota rubs his own cock, pulling his legs up so that Zak can get deep inside of his ass.
Dakota gets some control back as he climbs on top of Zak and rides that hard prick, bouncing up and down while he plays with himself before bending over and letting Zak pound him raw while he cums on the carpet. Zak pulls out and shoots his own load, letting it drip down into Dakota's sore ass.