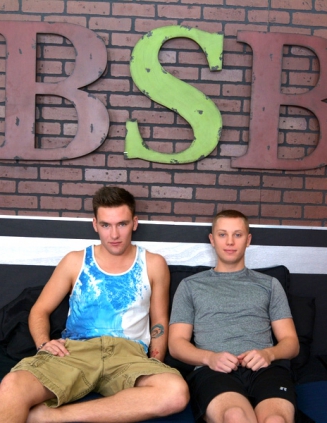 Ian Dempsey is about to help newbie Zak Parker get a little more comfortable in the studio and continue to show him the ropes of what porn is all about. They kick it off with some kissing, undressing slowly as Zak plays with Ian's cock under his shorts before those come off too! Then Ian goes down on Zak, sucking his dick and deepthroating it as Zak watches him from above.
After the oral, Zak lubes up and enters Ian, taking it slow as Ian adjusts to having Zak inside of him. They kiss while Zak is riding Ian and then he ups the tempo a little, pounding his faster and trying to bury that prick as deep inside of Ian as he can! Zak tops Ian doggy style and then side-by-side, making Ian's hot ass bounce with each deep thrust and yanking on Ian's dick as he rams him.
Next, Ian lies on his back, spreading his legs wide open to receive Zak's bareback dick and Zak doesn't hesitate to shove his prick right in and fuck Ian hard, filling his ass up with his throbbing dick as Ian moans quietly in pleasure. Zak takes a break from pounding Ian to give him some oral and get his asshole a little wet before picking right back up again and fucking the cum out of Ian, then shooting his own load on top of that!