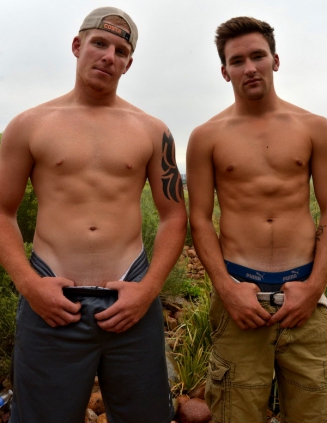 Conner Chesney and Ian Dempsey are straight boys looking to make the most of their experiences here, and they're always striving to get better. But you know what they say…practice makes perfect! These boys start with some kisses while they get their clothes off and Ian gets on his knees to suck Conner's dick, shoving that cock deep into his mouth as he makes it grow bigger and harder while he works his magic.
But Conner just seems to be itching for a taste of Ian's prick, and Ian leans back and lets him at it as Conner runs his mouth up and down Ian's thick shaft. These boys don't need too much time to warm up, they're ready to get to the fucking, and Ian bends over and spreads his ass for Conner, taking that dick as he strokes his own cock.
Conner's balls slap against Ian's ass as he pounds him, getting a little rough as he pumps him full of his big cock. These two studs are feeling adventurous as they move their fucking over the nightstand where Ian lays on top of it and spreads his legs open for Conner. Another position change and some more hard and fast fucking and Ian is shooting his load onto himself, followed by Conner, who pulls out and cums on top of Ian, and Ian gets a taste of Conner's jizz!