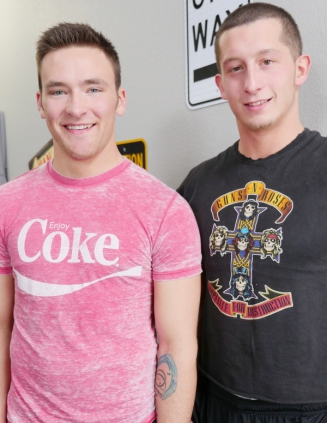 Drake Tyler has had a long week with lots of strenuous fucking and sucking, luckily for him we've paired him up with Ian Dempsey, who is more than willing to give this hard-working stud a rubdown. There's nothing better than a massage to get the blood flowing and the cocks hard…and Ian's dick is proof of that!
He pulls off Drake's boxers and gives his ass a little rubbin' then a rimjob to top it off, all while his own fat cock is hard and ready for some action. Ian licks that hole a little more, then fingers it before finally going balls deep, shoving his thick prick inside of Drake's sore, tight hole. Ian doesn't hold back, he knows he deserves some kind of repayment after that massage, and he's taking what he deserves, pumping Drake full of his hard dick.
Drake climbs on top of Ian next, bouncing his ass up and down on Ian's prick, riding that throbbing stick as he grabs his own wang and starts to jerk himself off. He moves his hand faster and faster over his shaft as he rides Ian until he squirts his jizz all over, then gets on his knees to give some head and take a mouthful of Ian's cum!