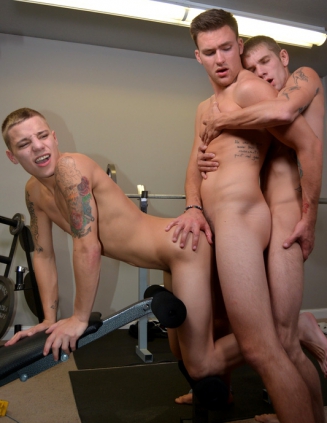 Dakota Ford, Ian Dempsey and Tyler White are working out together today, in more ways than one! It starts off pretty innocent as these three ripped studs lift weights and spot each other, but Dakota's feeling a little naughty and goes right for Ian's cock before he drops his shorts and sticks his dick in Ian's mouth. Tyler drops his weights and joins in on the fuckfest, wrapping his mouth around Ian's prick and sucking while Dakota face-fucks Ian.
Just when you thought this threesome couldn't get any hotter, Tyler's dick is in Ian's ass and he's riding him hard and raw while Dakota comes around and gives Ian some oral. Tyler is brutal as he pounds Ian bareback, ramming his cock into him as his balls slap against Ian's sore ass…but his ass is about to get a lot more sore as he takes Tyler and Dakota's dicks at the same time!
Ian's ass is taking a beating as it stretches to fit both of those huge pricks inside of it and they go at it from a couple positions, taking full advantage of Ian's stretched ass! When he can't take anymore, Dakota gets him and Tyler off before he stands up and shoots his own load onto Ian and Tyler!