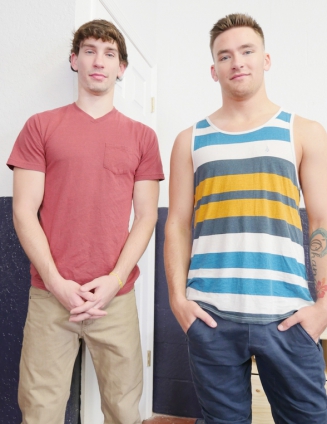 Abram Hoffer, one of our newest additions to the BSB studio, is still getting a feel for guy-on-guy action, so we've brought expert cock-sucker and butt-fucker Ian Dempsey in to help teach Abram a thing or two!
They warm up with some kisses, stroking each other's cocks and rubbing their balls as they make out, losing their clothes along the way until they're both bare-assed and hard. Ian gets a little taste of Abram's sweet cock, then vice versa, until they're horny and hard enough to kick it up a notch. Ian bends over, doggy style, and offers his ass to Abram, who lubes up and goes in bareback, taking it slow to give Ian's tight hole time to adjust to Abram's thick cock.
Abram can't keep it slow for too long before he just has to start fucking harder and faster, that tight ass feels too good around his prick and he takes Ian every which way. They switch it up, getting a few different positions in before they both need to release and Ian lies on his back, legs spread for Abram's dick as he slides it right in and Ian rubs the head of his cock in preparation to cum. Ian passes his dick off to Abram who finishes the job and drains Ian's cock before he pulls out and busts a huge nut!