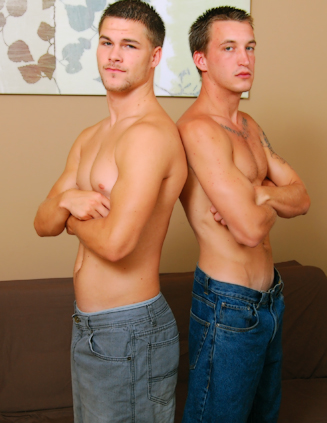 Colin has never performed a blowjob on a guy before but today, he's going to be learning how to do it with Jimmy. Right away, it was easy to see that there was a great chemistry between Jimmy and Colin and I knew that this was going to be one hot shoot. While Colin wasn't too keen on giving Jimmy a blowjob, he desperately needs the extra cash and was willing to give it a go. Jimmy, on the other hand, piped up and said that even though he was getting better at dick sucking, he still wasn't too good. The boys stood up and quickly stripped off naked, their clothes flung down on the floor beside them. After they both did a twirl for the camera, they sat down and started playing with their dicks in order to get hard. Like always, Jimmy was rock hard in mere minutes while Colin was only a few seconds behind him. Jimmy knelt up on the futon, his dick standing to attention. Colin twisted around to face him and without any hesitation at all, swallowed down Jimmy's thick cock. With a firm grip on the shaft, Colin bobbed his head up and down in a steady rhythm which led Jimmy to pronounce that Colin was an 'eager beaver'.

As Colin got used to the new flavor of cock in his straight boy mouth, I told him to drop his hand so that all the members at Broke Straight Boys could see how he was going. Although he was a little unco-ordinated, Colin was doing a great job as the hard shaft slid in and out of his mouth. Jimmy told Colin to go faster and in an instant, Colin set a cracking pace. He was going so fast, Jimmy's dick slipped all the way out, forcing Colin to grip the base of the cock with his thumb and forefinger so he had better control. Jimmy decided to help Colin out by encouraging him to go deeper with a heavy hand on the back of his head. Suddenly, Colin choked as the cock grazed the back of his throat. However, he recovered nicely and after pumping the shaft a few times, Colin slid the dick all the way into his mouth again.

With a hand wrapped around his own dick, Colin jerked himself off as he concentrated on improving his oral skills. The boys switched it around; Jimmy standing on the floor while Colin was down on his knees in front him, a mouth full of dick. Colin was doing so well with his first ever blowjob that Jimmy questioned whether or not it was Colin's first time tasting cock, to which, Colin replied that he just knew how he liked it. As he bobbed back and forth, Colin got daring and gave the shaft a few long licks, much to Jimmy's appreciation. For something different, Colin sat cross legged on the floor and looked up at Jimmy as he lavished the dick with attention, Colin's efforts caught in stark detail by the little cam Jimmy was holding. EAch time Jimmy's dick slipped out from between his lips, Colin used his tongue to encourage it back home.

Once Colin had a grip on things, Jimmy started to gently face fuck him as he held Colin's head still. Soon enough, Jimmy was able to set a hard pace as he thrust his dick all the way down Colin's willing throat. Sitting back down on the futon, Jimmy relaxed as Colin knelt beside him and went back to work on his dick. Pressing down on Colin's head, Jimmy indicated for Colin to go deeper and faster, Colin instantly complying. Surprisingly, Colin was getting right into the blowjob, massaging Jimmy's balls even as Jimmy warned Colin to 'be nice, be gentle!' With all of Jimmy's moaning and heavy breathing, it wasn't going to be long before he was ready for his cum shot. Standing up once again, Jimmy let Colin work his magic even as Colin jerked himself off at a furious pace. However, it was Colin who came first, cum splattering over the futon and with a mouthful of cock. Shaking the cum drops off, Colin gave his dick a couple of hard slaps for good measure. Now it was Jimmy's turn. Standing beside Colin, Jimmy put in some hard wrist action as he chased orgasm and only a minute or two later, cum dribbled down onto Colin's chest, stomach and pooled in his belly button. In one last comment, Colin admitted that giving a blowjob had been pretty good so I'm sure he will be back very soon.