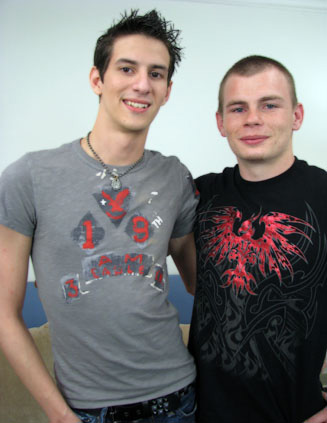 Broke Straight Boys is very happy to welcome back two models whom haven't appeared on BSB for some months; Mikey and Nathan. Just to refresh everyone's memories, the last time Nathan was here, he was in a scene with Logan. Nathan is straight, has a girlfriend and is from Arizona while Mikey is one of our token BSB gay boys. However, neither has worked together before and as such, I told them it was going to be an oral scene only for $600 each.
The boys started to strip off, Nathan revealing a much more buff and muscular body than before and he stated he had been working out while Mikey had that same very slender, twink type of body. Mikey showed off the underwear he received from one of the sponsors from when he was on a BSB tour, Aussiebums, and talked how he and Diesal went to a bath house wearing just the undies and got hit on a lot. Nathan, once he knew what a bath house was, just looked very intrigued while saying he should find out if there were any for straight guys. Sitting back down on the futon, still in their underwear, the boys worked on getting hard while they watched the straight porn. After a few minutes, I got them to stand up and take off their underwear and Nathan was immediately taken aback at how long Mikey's cock was.
Still standing up, Nathan continued to wank off at the porn while Mikey just tugged on his own dick while watching Nathan. Back on the futon, Mikey swallowed down Nathan's cock, slowly sliding it in and out of his mouth while Nathan just leaned back and enjoyed it, admitting that it felt good. Once Nathan was hard enough, Mikey decided it was his turn, Nathan taking the long, hard cock into his straight boy mouth. Nathan soon had Mikey panting hard as he alternated between sucking on just the head and going deep on it. With an hand on the back of Nathan's head, Mikey encouraged him to take the hard cock deeper into his mouth even as he wrapped a hand around Nathan's dick and jerked him off. From Mikey's moaning, it was obvious that Nathan had picked up some pretty good skills at giving head while at BSB. As Mikey started thrusting up into Nathan's mouth, it was clear that he was close to cumming so Nathan switched to jerking him off and only a moment later, Mikey sprayed cum all over his chest and stomach.
Now it was time for Mikey to finish what he had started, so he leaned over and slowly sucked on Nathan's cock like it was his favourite candy and he wanted to savour the flavor. Mikey tried out a few techniques on Nathan before he settled for wrapping a tight hand around the base of Nathan's dick and concentrating mainly on the head, deep throating every now and again while Nathan lay back with his eyes closed. Nathan was soon breathing heavily, no doubt enjoying a hot wet mouth on his dick. Too close to cumming for Mikey to keep sucking him off, Nathan took control of his own dick, jerking off furiously as cum splattered over his stomach and in his pubes. Both boys did a really great scene, obviously having some great chemistry together so stay tuned, maybe next time, one of these boys may be bottoming?