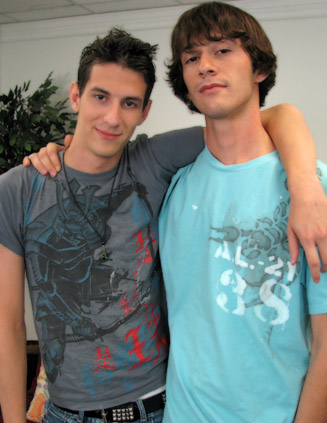 I brought Anthony in and had him take a seat on the couch, it had been a while since the last time that I had him in the studio. He has been working, but it just hasn't been very steady work to keep up with all the bills. I told him that I had a surprise for him as far as who he would be doing the shoot with, and right away he wanted to know what I had up my sleeve. Calling out for the other model to come in, the door opened, Anthony looked up and saw that it was his cousin Mike. Anthony stood up and gave Mike a big huge, and then the two of them took a seat. Mike brought up that Anthony has not answered his phone calls are called him back. Come to find out some family members found out not only were both of them doing porn, but that they were doing it with each other. It was something that caused, Anthony to take a break for a while. However, he was in a bind and need money, so that was when I got the phone call looking for work. The two of them are very hot and getting a lot of attention on Broke Straight Boys, part because they work so well together, but also the fact that they're cousins. I asked which one of them was going to top, and Mike responded that he would be doing that. Anthony was clear that he was going to have to bottom for the shoot to happen. There was two other things that I wanted them to do, the first one was that I wanted to see kissing, and the second was that I wanted to see Mike rim Anthony's hole.
To get undressed the guys took off their shirts, and then I pointed out that it would be hot to see them kiss right then. Turning to look at each other, they both leaned in and their lips touched. I even saw a little tongue action taking place. After they took a break, Mike started to go for Anthony's belt, and he moved down to the floor to make it easier. Mike pulled off the pants, and then the underwear and there in front of him was Anthony's soft cock ready to be sucked. It didn't take long for his dick to start growing, and as he got harder Mike decided that it was his turn to get hard. Anthony had Mike stand in front of him, and the two did a combined effort to get him undressed. The naked Mike stepped forward and his dick was at the right height for Anthony to just lean forward and put it in his mouth. It took Mike a while to get his dick to about half hard. Anthony was able to deep-throat the whole thing in his mouth several times in a row. He said that it was from all the practice of sword swallowing that he did. Mike took a seat on the couch and both guys went back and forth several times as they gave head to each other. It was clear to me at one point that Mike was fully hard and ready to fuck, when his cock looked like a torpedo ready to go to explode.
The boys put the couch into a bed, and Anthony assumed the doggie-style position. Mike leaned forward and smashed his face in Anthony's ass to get far enough in that he could lick the hole. As his tongue slid over the hole, the sensation caught his attention. In a combination of licking he also slapped the ass with his bare hands, and that made Anthony turn his head back to watch. Then the two of them stopped and Anthony helped to get Mike's dick back to being rock hard by giving him a little more head. The guys then stopped to get ready to fuck, so Anthony applied some lube to his hole, and Mike got the condom on. Picking a position to start out in Anthony started on his back, he lifted his legs up in the air and Mike directed his cock towards the hole. However, maybe it was just the position, but Mike was having some trouble, so Anthony reached around, grabbed the dick and did it himself. As soon as it was in he grabbed his ass cheeks, spread them apart and just allowed Mikes cock to sink deep into his ass.
Mike didn't hold back when it came to fucking his cousin Anthony, he picked up speed and made sure that with each motion in he put his cock in all the way. Anthony's legs got moved around a lot, and Mike even curled him up in a bowl, just so that way they could kiss a little more. Once they were in that position for a while, Anthony decided for the next position to do was that he would ride it so he could be in control. As he sat all the way down on it, Anthony seemed like a pro as he seemed to be a power bottom. He pulled his cheeks wide apart so that we could see the cock going in and out of his tight hole. Anthony made a lot more noise now that he was into getting fucked. The two of them defiantly seemed to have a connection for the two of them to have sex this well together. Anthony leaned forward to kiss Mike again and after that they tried out the doggie-style position. It was in this position that Mike went deep and he even slapped his cousin on the ass. All of a sudden, Mike let out, kind of loud that he was going to cum. He pulled out, took the condom off, and his load shot all the way up to Anthony's neck. Some went down his side and all the way down to his ass. Mike always has a good load pretty much every time he is here.
Anthony said that it was his turn to get off, he quickly wiped off his back, and he got on the bed. He told Mike to give him head just to get him back to being hard again. The blow job went on for a few minutes, and Anthony even put his hand on the back of Mikes head to control the speed of the sucking. Once the cock was hard, Anthony took over jerking himself off, and as he got closer to shooting his load. He grabbed Mike by the head and had him place his face right over Anthony's lower stomach facing his cock. As he got closer to cumming he showed all the signs of having an orgasm, with the heavy breathing, the moaning, and his skin turning red. That's when he came and all the cum went all over Mike's cheek and mouth, and afterward Anthony smeared it all around. Both guys sat up and it seemed like they enjoyed the shoot, hopefully they will still talk after they go home. Anthony just said that since word got out things have been different. Well, it was great having them back in the studio to give another great show for everyone.