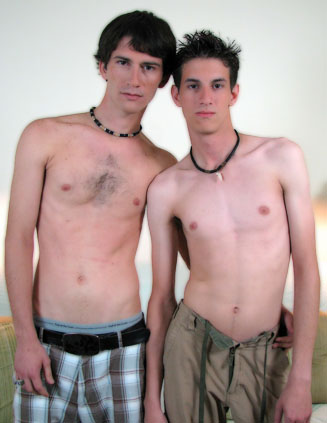 A while has passed since Anthony last did a shoot with us, but he had called me up looking to get some extra work. I setup a time for him to come into the studio. When he showed up for his shoot we got him in front of the camera. I told Anthony that I had a surprise for him, and he got all excited that we were going to be hooking him up with one of the girls from BrokeStraightGirls.com. I kind of laughed a little bit, and said well it's kind of like a girl. He got a puzzled look on his face, and I told the person in the other room to go ahead and come in. Mike came into the room and took a seat on the couch next to Anthony.
As the conversation went on, Mike learned that Anthony's wife Pam had no idea that he was doing porn to make all the extra money that they had in their account. I said that we had used Mike on a site of ours collegeboyphysicals.com, and he did a great job. Mike got confused on why we kept referring to Anthony by his middle name, and I learned that everyone else calls him Jacob or Jake. I asked the two cousins if they ever missed around together before when they grew up, and they both just looked at each other before really saying anything. I learned that they did mess around by jacking off in a barn together, and looking at Anthony's array of porn. They let a story out about when they went on a camping trip when they were 14 and messed around with each other than, and happened to do a little oral. I asked if they would do some oral for the shoot that we were going to be in. We came up with a number for a paycheck that they would get and they seemed to be pretty happy with it. Both of them stood up and peeled off their shirts, and we were able to get a better look at the two of them next to each other. They took off their shorts, and took a seat on the couch in their briefs. Reaching down they both played with their cocks as they watched some bisexual porn to try and get hard. We joked around, but I couldn't help it the guys had a great sense of humor. As the two of them played with their dicks, Mike was proving not to have a problem with getting hard around his cousin and the camera. He spilled that he tends to get off about three times a day, and with that huge cock of his I am sure that it needs to get emptied often. Anthony is a little more shy about it, ever since he was caught jerking off by his mom Mike said. Since, Anthony was having a little trouble getting hard, I asked Mike if he would help out with giving head first. He bent over and took his cousin's cock in his mouth and started to suck. He was able to take all the cock in and get it to a boner in no time. I let the two of them do their thing, but after a while I had them switch it up.
I had Anthony give his turn at giving head. To do it, he moved down to the floor on his knees right in front of Mike. Taking the cock in his mouth he was able to deep-throat that hard, monster cock in his mouth. Mike was turned on and licking his lips in excitement from the job that Anthony was doing. The hottest moment was when Anthony licked the tip of the cock and looked up at Mike's face for his reaction. Keeping things going between the two of them, they change the couch into a bed. Climbing on they got into the 69 position, and got back to sucking dick. Watching Mike give head first, he stroked the cock at thesame time he sucked on the head. The bonus was when he licked Anthony's balls as well. I moved over to watching Anthony, who was just as good at sucking dick as his gay cousin it looked like. The guys stopped what they were doing and moved to jerking off next to one another. As they pumped their cocks, trying to get off I did noticed that Anthony was just as hard as Mike was. The two of them had about the same size cock, so big dicks run in their family. Mike was the first one who came shooting his load all over his lower stomach. His cum was a thick, white color, that stood out on his skin. Then, Anthony gave me a warning and he came as well. His load was clear and runny covering his hands in his load. They did a great job in the shoot, and were hot to watch. I asked if they would come back to do some more work, and they seemed down. I will try and call them back in a couple of days, and see what I can possibly setup with them next.