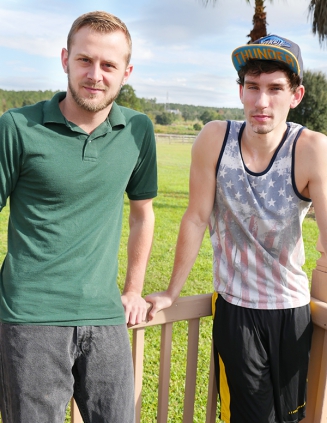 Abram Hoffer doesn't know too much about Chandler Scott since Chandler's a pretty quiet guy, but he's about to get to know him in a whole new way as move in for some kissing, making out as they strip down. Chandler's mouth finds its way to Abram's cock and he doesn't suck it for long at all before Abram is pulling Chandler up and onto his cock, sliding that bareback dick up his ass and fucking him!
Chandler moves forward, letting Abram suck on his sweet cock before Chandler gets into the reverse cowboy and rides Abram's thick meat. When they want to switch it up, Chandler lies on his stomach and lets Abram pound him from behind, pumping that throbbing dick in and out of Chandler's sore ass and taking that cock from every position!
As Abram buries his prick deep inside of Chandler, Chandler plays with himself until Abram is ready to come, pulling out and stroking his hard member until he jizzes everywhere! Chandler's not far behind, jerking his own cock and draining it all over himself as they both take a moment to recover from that amazing sex!