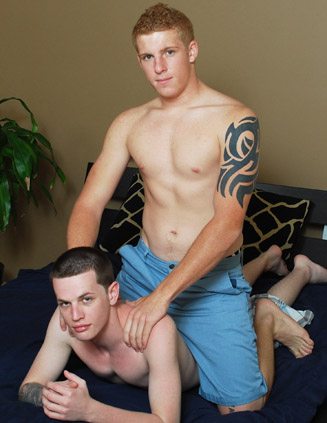 Last time these two were together, they played with Bobby. Anthony calls that scene "the fuck train"
and Conner is all proud because it (rightfully so) earned lots of attention.

Conner wonders what his scene partner has been doing since last they've met. Not much has been going
on with Anthony. He hasn't been fucked since his last train ride. Seems his girl doesn't like it
when her man takes that mode of transportation. Don't know why. Anthony is a rather delightful
commuter (grin).

These two know the deal here at BSB, so they lean back on the bed and start with lip locking. There
is no more beautiful picture than straight dudes trying to kiss. Mainly because they can't decide
where the tongue should go. For today, these two decide to keep their tongues private, puckering up
for lip smacks.

Soon the clothes are lost, but for some reason Conner keeps on his boxers. Has our ginger man turned
shy? Anthony wonders what the deal is. Fucking will prove to be difficult if Connor doesn't lose all
his clothes.

Because Anthony will be the fuckee, Conner sucks dick first. He doesn't deep throat his partner's
dick, but he must be doing something right. Anthony's voice turns all low and soft.Who doesn't
love when their man coos a cuss word or two?

Connor does gag once, but keeps on sucking. He even spits up some pre-cum. Juicy!

Then Anthony takes his turn with Conner. As we all know, Conner is not a small man in the appendage
department; Anthony goes down as best he can. He goes even further when Conner puts his hand on the
back of his head.

Anthony occasionally gags. A few times his whole body convulses as if he just can't handle all that
red meat. His mouth is much more watery than Conner's, but Conner doesn't spend a lot of time
complaining.

Doggie is the first position they fuck in. Anthony should trademark his big "O" face. Whenever a
dick gets into his ass, his eyes are closed and that fetching mouth opens up real wide (one of the
reasons he's the perfect meat in a three-way sandwich). It's like he can't decide if what he's
feeling is extremely painful, incredibly enjoyable, or a blessed mixture of the two.

The big red machine (a shout out to the BSB baseball fans) is in no mood for sweet, sweet love. At
least today's he not. He gives Anthony's ass a well deserved smack, pulls his arms behind his back,
and makes sure his balls slap the bottom boy's ass.

You have to admit this about Anthony: bottom boy knows how to take a licking and keep ticking. Never
whines about the top slowing down or begs for a break. Just puts his face in the mattress and moans
"oh, fuck."

Conner inquires if Anthony wants to switch it up. He does, and puts his legs in the air. Before he
gets on his back, Anthony gives his top stud a passionate kiss. A thank you for the hammering.

The hard pounding doesn't stop because positions are changed. Conner keeps filling the bottom up,
and Anthony's mouth continues to be contorted in a wide "O." The screwing is so intense Anthony
cries, "Oh fuck, bro." Somebody's prostate is getting a workout when that phrase is used!

Anthony starts stroking his dick, all prepared to nut. Soon the studio is filled only with the
sounds of Conner's balls slapping Anthony's butt, and Anthony working his own dick. He cums, but
Conner makes sure he gets a few strokes in so Anthony remembers he's been thoroughly, and
completely, reamed.

All that fucking has brought Conner close to popping, and his copious load lands all over Anthony's
pale belly. At first Anthony makes a face of disgust when the cum lands on him, but notes with much
admiration:

"Damn, bro. That's a big load."

Yes it is. And it was well earned.