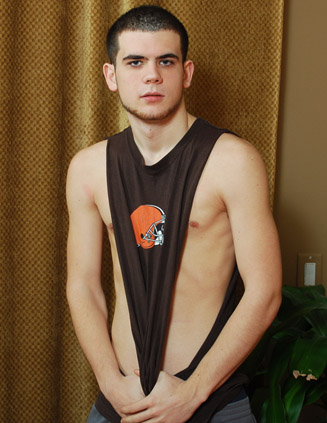 Today, we introduce another hot boy; Blake Savage. Blake, who is single, needs some quick cash in order to pay his rent, thus, the
reason he has agreed to jerk off on camera. Taking off his shoes and socks, Blake said that he played both football and baseball. His
t-shirt and shorts were soon taken off and dropped onto the floor, revealing Blake's toned upper body, lean legs and ultra cute
'outtie' bellybutton. Grabbing his cock through the soft boxers, Blake said that he first started jerking off when he was around
fifteen and that he had been caught by his Mom. He turned around, pulling down his boxers and flashing his virgin ass and large
tattoo scrolling across his upper shoulders to the camera. As he started to play with his dick, Blake admitted that the strangest place
he had ever done it was in his car. He also went on to say that his favorite thing in porn was the oral scenes.

Pulling down his boxers entirely, Blake revealed what was probably the thickest bush ever seen on Broke Straight Boys. Blake settled
down on the edge of the bed, his hand sliding up and down his hardening dick. A moment later, he shifted further onto the bed and
lay down on his back. Even though Blake had never jerked off before in front of a camera, there was no doubt that he was one of the
more confidant boys in the studio. Swapping from hand to hand, Blake couldn't help but lightly touch himself across his chest and
nipples as he worked on getting hard. It wasn't too long before Blake had a rock hard dick so he moved to kneel on the bed so that
he could show off his stiffy. Blake, panting heavily, rolled his hairy balls with his fingertips, getting more and more turned on as he
worked on his cock.

Blake was putting in some serious wrist action as he jerked himself off, his hand sliding up and down his rock hard shaft. Deciding
that he was more comfortable on his back, Blake lay down again even as he fisted his dick. By now, Blake was turned on to the full
and with his eyes closed, he was obviously in his favorite fantasyland. Still, Blake had no problem with lifting his legs and showing
off his hairy ass hole to the camera when asked, nor did he have an issue with spreading his ass cheek so that there was a better
shot of his virgin hole. A minute later, Blake let his legs drop down as he started to jerk himself off in earnest. Working towards the
finish, Blake concentrated on his private fantasy even as his hand was a blur in motion. Swapping from hand to hand, Blake broke a
sweat as he got closer to cumming. Suddenly, without a word of warning, a steady stream of cum shot all over Blake's stomach and
into his thick bush before dribbling down his hip.

Even though Blake was one of the quieter boys we have had in the studio, with his confidence and willingness to experiment, I'm
sure that he will be back in no time at all so make sure you watch out for him in the future.