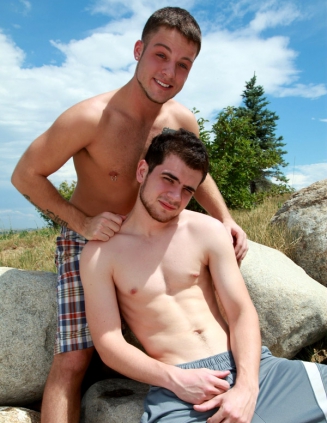 Zeno Kostas is bummed that he didn't get to go on a mountain hike that he had been looking forward to…lucky for him he's got Blake Savage there to help him work out his frustrations. Although Blake doesn't seem too thrilled to be bottoming, he gives in and gets undressed and they both sit naked on the bed, stroking each other's cocks until they both start getting hard.
Zeno has Blake lie back on the bed and he takes his dick in his mouth, sucking on that delicious meat and drooling all over it as he works Blake's cock until it's standing at attention. Once Blake is good and hard, Zeno stands up on the bed and puts his prick in Blake's face, and Blake doesn't hesitate to take it in his mouth and work it over with his hot tongue. Before they finish up with the oral, they get some 69ing in and then Zeno lubes up and lets Blake sit on his hard dick, sliding his bareback cock all the way in as Blake rides it hard.
Blake lies on his back and bottoms for Zeno that way, getting his tight ass stretched even more as Zeno fucks him slow and steady, then doggy style as Zeno fills Blake's sore ass with his cock. After a few more good thrusts, Zeno pulls out and cums onto Blake's ass, and Blake shoots a huge load as well!