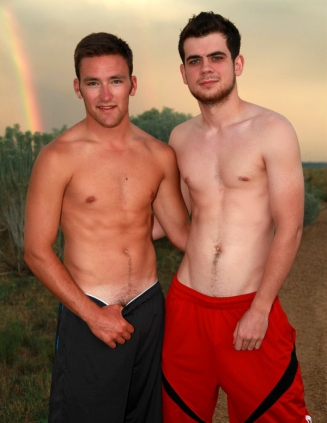 Ian Dempsey has been working next to the pool lately, and his hot, tanned body is proof of all that hard work in the sun! It's even hotter to see him press that tan chest against Blake Savage as they make out, kissing a bit before Ian stands up on the bed and gets his cock in Blake's face. Blake gives Ian some oral, working his cock with his hand and mouth as Ian looks down on him from above.
Blake's dying to get some action too, and Ian doesn't hesitate to go down on him, sucking his dick until it's hard enough to penetrate Ian's tight ass! Ian climbs on top of Blake and sits right on that prick, riding it hard as both guys moan in pleasure. Ian's dick bounces up and down as he takes it up the ass, but then they try some doggy style fucking and Blake goes hard and deep, filling Ian's ass up with his throbbing cock.
One more change of positions and Ian is on his back, legs spread, getting slammed by Blake as he plays with his own dick until he shoots his load onto his stomach. Blake squeezes in a few more good thrusts before he can't take it anymore, pulls out and cums onto Ian!